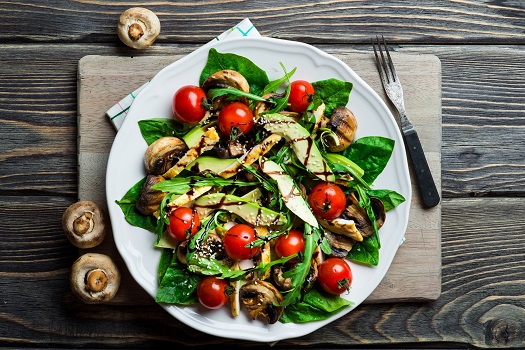 Most people have several favorite meals they go to for breakfast and dinner. However, seniors and their caregivers tend to have difficulty coming up with lunch ideas. These lunch options are great for seniors, and each one offers several health benefits.
Chicken Salad
Seniors are sometimes unable to eat all the food they prepare for meals. Fortunately, chicken salad is one of those lunch options that can be made from the previous night's leftovers. Just chop up leftover chicken and mix it with pickles, mayonnaise, and chopped bell peppers. Your senior loved one can then eat it on whole wheat toast for extra fiber or put it on a celery stick for a low-carb meal.
A professional caregiver can be a wonderful source of encouragement when your loved one is trying to practice healthier habits, including eating more nutritious foods. In Dallas, senior care agencies can be a great boon to seniors. With the help of the caregivers at Home Care Assistance, your aging loved one can lead a happier and healthier life. We offer a revolutionary program called the Balanced Care Method, which encourages seniors to eat nutritious foods, exercise and socialize regularly, and focus on other lifestyle factors that increase life expectancy.
Omelette
Some seniors aren't ready to eat big breakfasts when they first wake up. An omelette is a great way to give your loved one a customized boost of nutrition. Eggs provide the base for this meal as well as critical nutrients such as lutein. You can then add other ingredients to the omelette to round out your loved one's nutritional plan. For instance, you can toss in spinach for iron, or you can sprinkle in red bell peppers for some vitamin A. This lunch is also versatile enough that you can serve it often. Just change up the ingredients, and your loved one won't get bored.
Homemade Soup
Soups are light enough for seniors to eat without worrying about being too full for dinner. This is another lunch idea seniors can make on their own. To make this option easier, consider preparing the ingredients beforehand. Your loved one can then toss the cut vegetables and meat into a pot and simmer it in his or her favorite liquid ingredient. Leftover soup can also be frozen and defrosted for quick meals later on. Depending on the ingredients you put in, soups are a great source of protein, vitamins A and C, and fiber.
A professional caregiver can be a terrific source of support for a senior who needs a hand with planning and preparing nutritious meals. If your aging loved one needs help managing everyday tasks or encouragement to adopt healthier lifestyle choices, turn to Home Care Assistance, a leading provider of home care. Dallas Home Care Assistance provides professional in-home caregivers around the clock to help seniors live longer, happier, and healthier lives.
Pasta Salad
Many types of pasta today are made from vegetables such as spinach and tomatoes, and this is a great way to sneak in some extra nutrition in a way that might be more appealing to a picky senior. You can also add water-rich foods such as cucumbers and cherry tomatoes to the salad to help your loved one with hydration. This meal is great for hot summer days, since it's best served chilled.
Tuna Melt
Tuna is a light fish that works wonderfully in sandwiches, and it's also full of healthy omega-3 fatty acids. Once you've mixed the ingredients together, you can add a slice of cheese to the sandwich, which adds to the flavor and is a great source of calcium that helps your loved one maintain strong bones.
Family caregivers need to maintain healthy lifestyles too, which involves taking time to attend to their own wellbeing. Whether you need respite from your caregiving duties or your aging loved one needs 24-hour care, Dallas, TX, Home Care Assistance can meet your family's care needs. Our dedicated caregivers are available around the clock to provide transportation to doctor's appointments, ensure seniors take their prescribed medications, and help with a variety of tasks in and outside the home. To learn more about our reliable, compassionate in-home care services, contact us at (214) 363-3400 today.