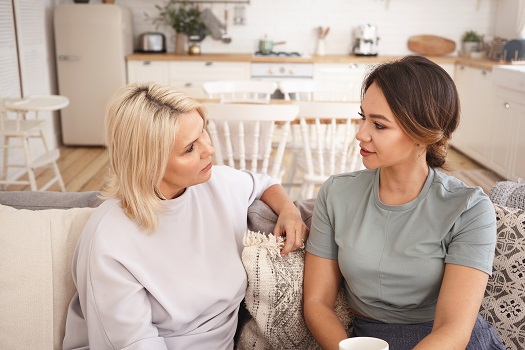 If you have a friend or someone else in your life who's a family caregiver, it's safe to assume you have the best of intentions whenever you have a chance to talk. Still, there may be times when your well-intended comments could come off in an entirely unintended way. Avoid awkward situations by being mindful of the following things you shouldn't say to a family caregiver.
"You Look Really Tired"
This comment may come off as insulting or serve as a reminder of an especially challenging day with an older loved one. Asking "How are you doing?" is a better option, since it leaves the answer up to the person you're asking.
"I Don't Know How You Even Do It"
This is one of those things that can come off as either good or not so nice. If you deliver this statement the right way, it could be perceived as a compliment. But it can also be interpreted as meaning you're glad caring for an aging family member is something you don't have to do.
You can support a family caregiver by offering to help him or her find high-quality professional assistance. Caring for a senior loved one can be challenging for families who don't have expertise or professional training in home care, but this challenge doesn't have to be faced alone. Family caregivers can turn to Dallas Home Care Assistance for the help they need. We provide high-quality live-in and respite care as well as comprehensive Alzheimer's, dementia, stroke, and Parkinson's care.
"Your Loved One Was Such a Fun Person to Be Around"
It's never a good idea to refer to a family caregiver's living loved one in the past tense. Instead, either provide a sincere compliment in the present tense or express a similar sentiment by asking how the caregiver's loved one is doing.
"How Can I Help?"
The problem with this question is that it can take a family caregiver by surprise. The caregiver may simply not know how to respond to your offer. If you do sincerely want to help, be more specific with your offer (e.g., "I have some free time this weekend, so let me know if you need some help running errands").
"I'm Sure Things Will Get Better"
This is something you might say to a family caregiver who's having a bad day or feeling especially stressed out. While you may mean this as an emotional pick-me-up, it's not always easy for a caregiver managing some of the more challenging aspects of providing care to see the bright side of things. With situations like this, just listening to your friend vent or share his or her feelings can be very much appreciated.
"What You Should Do Is …"
No matter how well it's intended, unsolicited advice is usually not all that helpful to a family caregiver. You may think you're pointing out an obvious solution to a problem your friend is having with his or her loved one, but you may not be fully aware of the circumstances involved. Plus, odds are the caregiver has already considered the same thing and found it to be impractical for his or her situation.
If you'd like to offer truly helpful advice, suggest hiring a professional caregiver. Some seniors only require help with a few daily tasks so they can maintain their independence. However, those living with serious illnesses may need more extensive assistance. Luckily, there is professional live-in care Dallas, TX, seniors can rely on. Home can be a safer and more comfortable place for your loved one to live with the help of an expertly trained and dedicated live-in caregiver.
Nothing at All
Silence isn't golden if you know someone who's providing care for an older family member and you never acknowledge this fact. Many people caring for senior family members appreciate receiving encouragement and support. Even just letting a caregiver know you're available to listen can be meaningful.
The best thing you can do for a family caregiver is offer your unconditional support and appreciation for all he or she does. In Dallas, senior care agencies can be a great boon to seniors. With the help of the caregivers at Home Care Assistance, your aging loved one can lead a happier and healthier life. We offer a revolutionary program called the Balanced Care Method, which encourages seniors to eat nutritious foods, exercise and socialize regularly, and focus on other lifestyle factors that increase life expectancy. Trust your loved one's care to the professionals at Home Care Assistance. Reach out to one of our compassionate Care Managers today at (214) 363-3400.