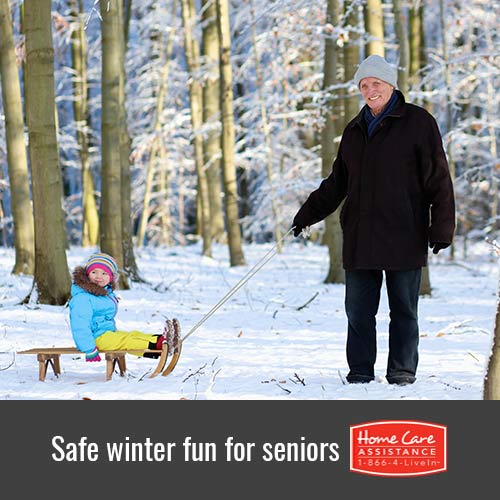 Even with the cheer leftover from the holiday season, winter can be underwhelming for some senior citizens. Frigid air and lack of sunshine can put a damper on any outdoor activities seniors would otherwise enjoy, thereby resigning them to the house. Don't let the winter blues get your senior loved one down. If you're looking for some safe and fun winter activities to enjoy with your senior loved one, Dallas part-time care provider can recommend a few notable ideas.
Winter Organizing
The winter months are the perfect time for your senior to get organized. Sorting through closets, cabinets, and wherever else your senior loved one keeps his or her odds and ends can be both fun and therapeutic. It's a good way to be reminded of fond memories while also learning how to let go of unnecessary clutter.
Scrapbooking
Speaking of memories, scrapbooking is a pleasant way to preserve them for years to come. Scrapbooking during the winter months can help your loved one focus on all the positive things in his or her life, past and present. It can be done manually with an actual book or digitally to allow for easier sharing and portability. Not only does it stimulate cognition, but it's also a fun project to show off to friends and family, especially grandchildren.
Entertaining Guests
While many of us limit winter entertaining to the holidays, it doesn't have to be. Entertaining guests is a terrific way to make sure your senior loved one remains social and active during the bleak winter months, which promotes mental health among seniors. Whether you host a dinner party, game night, or even a movie marathon, entertaining guests provides seniors with the social and mental stimulation they need to combat the winter blues.
Loom Knitting
The chilly air of winter calls for appropriate attire. Buying clothes may be more convenient, but it can be even more fun to make your own. With a knitting loom, you and your loved one can knit scarves, hats, and other winter accessories to add a little fun to a chilly winter day. Knitting projects can be an excellent way to inspire your senior loved to be creative while exercising his or her dexterity and promoting independence.
Keeping your senior loved one active during the winter months can help stave off undesirable ailments like winter depression, anxiety, and restlessness. To further occupy your loved one with socially and mentally stimulating activities, reach out to Home Care Assistance. We are a leading provider of elderly home care Dallas families can trust to help their senior loved ones. Whether our services are needed on an hourly or live-in basis, we offer seniors companionship, personal care assistance, and help with household chores. To learn more about how we can help your senior loved one, call us today at (214) 363-3400 and schedule a complimentary consultation.