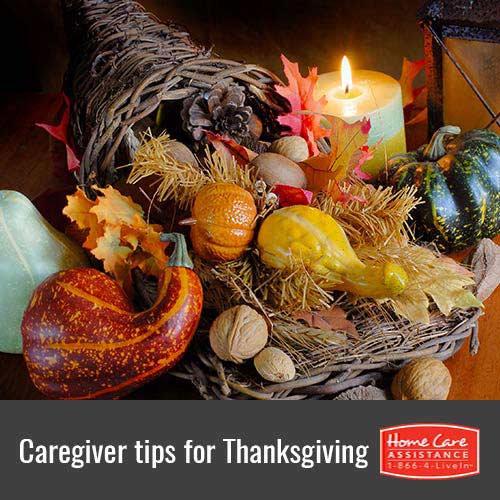 Just anticipating holiday hustle and bustle can be a source of anxiety. Family caregivers in particular are susceptible to stress during the holiday season, a trusted provider of in-home care in Dallas have prepared the following tips to help family members ease the tension and enjoy some quality time with their loved ones.

Simplify Holiday Tasks

Many people max themselves out with holiday "must-dos", but scaling them down will immediately reduce your stress. One way to reassess your priorities is to draw up a simple chart. Write down your holiday tasks, and then ask yourself these four questions:
Would the holiday be as meaningful without this activity?

Is there an easier way to do this?

Am I doing this out of habit, obligation, or by choice?

Can this task be shared?
The above stress assessment tool will help shorten your to-do list. Now that you have an overview of what you need to do, organize these activities in order of necessity. Focus on those at the top of your list and don't worry about the ones at the bottom.

Budget Your time

Enlist the help of your calendar and clock to pinpoint when you should start an activity and designate a specific day for it. For example, figure out when you should do the cleaning, grocery shopping, and cooking in preparation of the holidays. Then when the day for a task arrives, estimate the time it will take to complete it. Is there a job you tend to belabor? If so, set an alarm or timer and try to stick to your time allotment, but don't get unnerved if the work takes longer than expected. The time allotment is merely a guiding tool.

Make Lists

Do you ever experience "butterfly mind"? It's when random thoughts keep flitting through your brain, which can get pretty distracting. To net your ideas, get them down on paper and organize your lists accordingly. For example, create several lists: one for menus, groceries, gifts, and chores.

Streamline Shopping
There are several ways to systematize gift buying:
Shop online whenever feasible.

Catalog shop and order by telephone.

Buy the same gift for as many people as possible. 

If you prefer to meander the mall, keep a list in hand. This will prevent you from getting sidetracked, overspending, and overbuying.

Is the list of gift recipients way too long? If so, draw names. You can do this for your immediate family, siblings, and extended family. Write names on slips of paper, put them in a hat, and pick one person for whom to buy. 
Laugh Often

Diffuse stress with comic relief. Laughter has health benefits similar to those of exercise in that it lowers cortisol and raises levels of white blood cells. A hearty laugh relaxes muscles for 45 minutes and relieves anxiety and pain. Additionally, shared laughter is a bonding experience and will make the holiday season much more jolly. Here are some ways to exercise your funny bone:
Watch a funny movie or sitcom.

Recall a humorous story.

Play with a pet.

Goof around with a child.

Do something silly.

Tell a good joke.
Don't let the hustle and bustle of the holiday season overrun the time you give to your senior loved one. Home Care Assistance provides quality live-in care Dallas families can rely upon, whether you need a few hours alone to plan for the holidays or 24-hour assistance. Let our experienced caregivers lighten your load and care for your senior loved one while you focus on making his or her holiday special. Call us today at 214.363.3400 and schedule your free consultation.