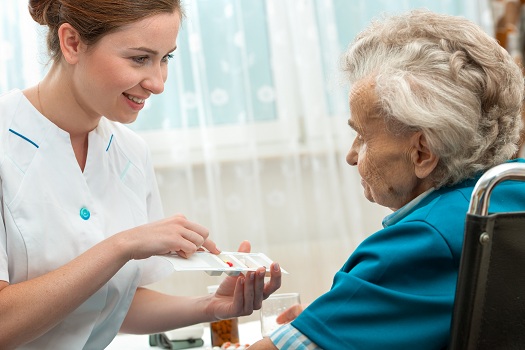 Though taking medication is a normal part of many seniors' lives, there are some times when aging adults might choose to avoid taking their prescriptions. However, no matter the reason, this choice can have adverse health effects. If your senior loved one is refusing to take his or her medication, find out why so you can help him or her follow the doctor's instructions for remaining healthy.
If It Has a Bad Taste
Many seniors don't like taking certain medications because they have an unpleasant aftertaste. To convince your loved one to take his or her medication, try offering it with something tasty or sweet. Always look on the medication bottle to make sure the prescription can be taken with food. If so, you can place the medication in small pieces of food, or liquid medications can be taken with beverages. If the medication cannot be taken with food or a beverage, have your loved one place it on the back of his or her tongue and swallow it with a large glass of water. 
For some families, caring for a senior loved one can be overwhelming at times. Luckily, they can rely on professional respite care. Dallas, TX, Home Care Assistance is a trusted name in respite and hourly care. Our caregivers are available around the clock to assist seniors with bathing, transportation, medication reminders, exercise, and much more, allowing families the time they need to focus on other important responsibilities or just take a break.
If It Has Side Effects
Your loved one's prescribed medications may make him or her feel tired, lead to an upset stomach, or cause other unpleasant side effects. You should know the common side effects your loved one could experience before he or she takes any medication. Always ask your loved one how the prescription makes him or her feel. Speak with a doctor and see if there's an alternative medication or a way to alleviate any unpleasant symptoms or side effects your loved one is experiencing. 
In Dallas, elder care providers can benefit aging adults in a variety of ways. From cooking nutritious meals to offering timely medication reminders, the dedicated caregivers at Home Care Assistance are available to help your elderly loved one 24 hours a day, 7 days a week.
If Your Loved One Feels Cured
If your loved one has a medical condition and the medication begins to work, he or she may want to stop taking the prescription. You need to convince your loved one that once he or she stops taking the medication, the condition could return and possibly get worse. Explain to your loved one the wellness he or she is experiencing is due to the medication and that he or she isn't necessarily cured.
If Finances Are Tight
Many seniors have limited income and resources, so they refuse to take medications they can't afford. Speak with the pharmacist to see if there's a more affordable alternative to the medication, such as a generic substitution. There are also programs available to help your loved one pay the costs associated with his or her prescribed medications. Talk to your parent's doctor to see if he or she has any samples of the medication and ask him or her to refer you to organizations that assist with prescription costs.
For seniors who want to stay healthy, it's important that they take their medications as prescribed by their physicians. Many seniors prefer aging in place over moving to assisted living facilities. If your senior loved one needs assistance to remain safe and comfortable while living at home, reach out to Home Care Assistance, a leading Dallas senior care agency. Our dedicated in-home caregivers can assist with meal prep, bathing and grooming, exercise, medication reminders, and many other important tasks. To learn about our high-quality in-home care services, give us a call at (214) 363-3400 today.