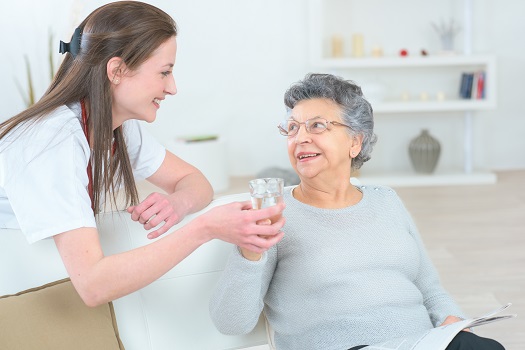 People often hear about a Parkinson's diagnosis and expect the worst-case scenario to happen. While you should accept the disease is progressive and will go through stages, it's also important to keep a positive mindset. Many people continue to live with the disease for many years before it has a substantial impact on their lives. While the symptoms may get worse with age, you can use this guide to understand why that happens and take the right steps to slow the progression and help your senior loved one enjoy a high quality of life.
Understand Normal Aging versus Parkinson's Symptoms
As a general rule, aging brings changes to everyone's abilities. For instance, many older adults experience weakness due to the normal loss of muscle mass that occurs with age. It's also common for people to lose some of their sense of balance or occasionally experience changes in the ability to remember important information. However, the majority of normal aging symptoms come on slowly, and they tend to be less severe than Parkinson's symptoms. For instance, with Parkinson's, the legs may completely freeze up while walking rather than just feeling a little shaky. Always bring up new symptoms with your loved one's doctor to find out if they're part of the Parkinson's diagnosis or related to another issue.
At some point, your loved one may get a great deal of benefit from having a professional caregiver help with everyday tasks. Families looking for top-rated Dallas home care service providers can reach out to Home Care Assistance. From respite care to specialized Alzheimer's, dementia, stroke, and Parkinson's care, there are many ways we can make life easier for seniors and their loved ones.
Learn How to Manage the Disease
There are many things you and your loved one can do to slow the progression of Parkinson's. Medications are a common option for addressing certain symptoms. Many of these medications act similarly to dopamine in the brain and reduce symptoms such as slowed movements and freezing. Your loved one may also be provided with a special diet to follow, since maintaining his or her general health could slow down brain-related changes caused by Parkinson's.
Be Proactive about Preventing Injuries
Every senior should be focused on injury prevention, but seniors with Parkinson's disease have even more reason to be cautious. The symptoms of Parkinson's disease raise the risk of falls, and any fall could lead to an increase in symptoms. If your loved one has difficulty walking or staying in a standing position, he or she should use a supportive device such as a walker. Your loved one may also need to be extra careful to prevent choking on food. Preventing injuries helps your loved one reduce many of the effects people associate with Parkinson's, such as losing the ability to walk independently.
Many seniors in the later stages of Parkinson's can continue to live at home, but they will likely need assistance from a family member or other caregiver to do so safely. For many seniors in Dallas, live-in care is an essential component of aging in place safely and comfortably. However, it's important for them to have caregivers they can trust and rely on. At Home Care Assistance, we extensively screen all of our live-in and 24-hour caregivers and only hire those who have experience in the senior home care industry. Our strict requirements ensure seniors can remain in the comfort of home with a reduced risk of injury or serious illness.
Embrace Support through Each Stage
Slowing the progression of Parkinson's disease is possible, but it takes work from both you and your loved one. Remember, this isn't a job you have to do alone. Get your family and friends involved. Hire a professional caregiver. Seniors who have diverse support networks tend to thrive as they age, even with a Parkinson's diagnosis.
The symptoms of Parkinson's disease can be difficult to manage, and family caregivers can easily get overwhelmed. Caring for a senior loved one can be challenging for families who don't have expertise or professional training in home care, but this challenge doesn't have to be faced alone. Family caregivers can turn to Dallas Home Care Assistance for the help they need. We provide high-quality live-in and respite care as well as comprehensive Alzheimer's, dementia, stroke, and Parkinson's care. If you need professional home care for your aging loved one, our Care Managers are just a phone call away. Reach out to Home Care Assistance today at (214) 363-3400.