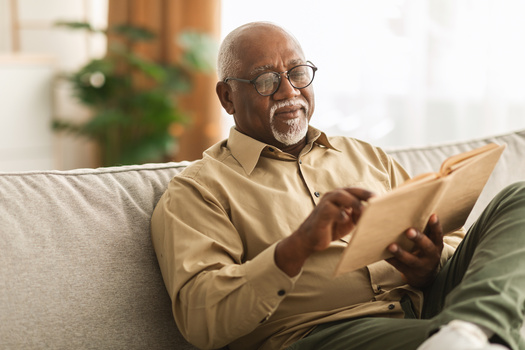 Physical and social activities can increase balance, mobility, gait, and mental health in aging adults living with Parkinson's disease. Family caregivers need to find interesting activities their aging loved ones can do without putting their health in jeopardy. Here are some activities that are safe for seniors with Parkinson's.
1. Reading
Parkinson's can make it difficult to read. However, there are safe ways to make this activity a little easier. For example, books with larger print can guide your loved one's eyes as he or she keeps track of the words on each page. Another idea is to use audiobooks. Flipping through the pages of a book may be difficult for seniors due to the impact of the disease, and audiobooks eliminate the need to manually turn pages. 
Many seniors in the early stages of Parkinson's are able to live on their own, but they may need a bit of help with the everyday tasks of life, such as grocery shopping and preparing nutritious meals. Aging adults who require assistance with the tasks of daily living can benefit from reliable elder care. Dallas, TX, families trust Home Care Assistance to provide the high-quality care their elderly loved ones need and deserve. Our caregivers are trained to help seniors prevent and manage serious illnesses and encourage them to make healthier decisions as they age.
2. Volunteering
Doing something enjoyable and interacting with other individuals can boost the amount of dopamine released in the body. Dopamine is a chemical that sends signals to the brain that control movement, and Parkinson's causes cells that produce dopamine to die. Helping others by volunteering may boost your loved one's mood and increase the production of dopamine.
3. Singing
Singing can enhance speaking and swallowing abilities, two problems seniors with Parkinson's disease generally encounter. Your parent can have sing-alongs at home, join a choir, or enroll in a local music class. Singing is a safe way to exercise the vocal cords without putting too much strain on the body. 
Difficulty swallowing and other eating issues in the advanced stages of Parkinson's disease can make caring for aging adults increasingly challenging. If you're the primary family caregiver for a senior loved one living in Dallas, live-in care is available if your loved one's health has become too difficult to manage without professional expertise. At Home Care Assistance, we take measures to help seniors prevent illness and injury by assisting with exercise and mobility, preparing nutritious meals, helping with bathing and other personal hygiene tasks, and much more.
4. Doing Hand Exercises
Older adults living with Parkinson's may notice changes in their handwriting, especially as the disease progresses. This change is known as micrographia, and there are various ways for your loved one to adapt, such as doing hand and wrist exercises. Thumb rolls, wrist stretches, and using squeeze balls are safe ways to increase dexterity and flexibility. Your loved one can also play the piano for fun as well as to reduce tremors, enhance handwriting abilities, and help with everyday tasks, such as buttoning and unbuttoning clothing.
5. Performing Tai Chi
Tai chi is a balanced-based form of exercise that can help aging adults with Parkinson's disease reduce stress, increase flexibility, boost muscle strength, and more. Postural instability is a common symptom of Parkinson's, but doing tai chi can alleviate this symptom and prevent slips, falls, and other balance issues that impact daily life. Tai chi is a safe exercise because it involves deep breathing techniques as well as gentle, low-impact movements.
Caring for a loved one with Parkinson's can be extremely challenging, and a compassionate professional caregiver can be a wonderful source of support. If your elderly loved one is living with a serious medical condition and needs help managing the tasks of daily living, reach out to Home Care Assistance, a Dallas senior care agency you can trust. Our caregivers are available 24/7, there are no hidden fees in our contracts, and we offer a 100% satisfaction guarantee on all of our in-home care services. Call (214) 363-3400 today to speak with a friendly and experienced Care Manager to formulate a home care plan for your loved one.