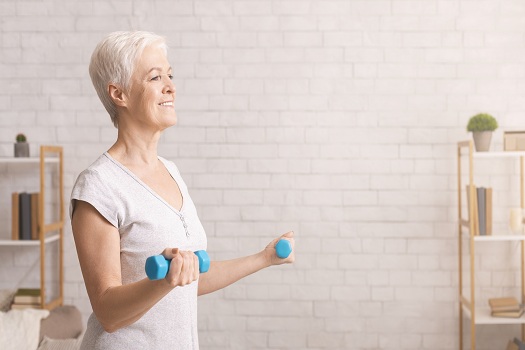 According to the International Osteoporosis Foundation, nearly 200 million adults live with this pervasive bone disease. While there are a few relatively effective treatments for osteoporosis, seniors must do everything in their power to avoid this disease entirely. Here are a few simple steps older adults can take to strengthen their bones and reduce their risk of osteoporosis-related fractures. 
Engage in Weight-Bearing Exercises
Many people are surprised to hear that certain exercises can strengthen bones as well as muscles. Low-impact exercises are a great option for seniors who have issues with their joints, but older adults should try to do weight-bearing exercises as well, which includes climbing stairs, dancing, lifting free weights, and using exercise bands. Before starting any exercise routines, seniors should always consult with their doctors.
If you usually help your loved one exercise but need a break now and then, hiring an in-home caregiver to take over on occasion is a great option. Some seniors only require help with a few daily tasks so they can maintain their independence. However, those living with serious illnesses may need more extensive assistance. Luckily, there is professional live-in care Dallas, TX, seniors can rely on. Home can be a safer and more comfortable place for your loved one to live with the help of an expertly trained and dedicated live-in caregiver.
Eat More Calcium & Vitamin D
Calcium is often associated with stronger bones, but the body won't be able to process that nutrient unless it gets plenty of vitamin D. One of the most effective ways to get vitamin D is to spend 10 or 15 minutes in the sun every day. Seniors can also eat foods such as fatty fish, egg yolks, and fortified cereal. To get enough calcium, seniors should try to eat at least a few servings of leafy green vegetables and low-fat dairy products every week. 
Highly trained caregivers can be a wonderful source of information and support as aging adults adopt healthier habits, including eating a more nutritious diet. In Dallas, home care agencies can be a great boon to seniors. With the help of the caregivers at Home Care Assistance, your aging loved one can lead a happier and healthier life. We offer a revolutionary program called the Balanced Care Method, which encourages seniors to eat nutritious foods, exercise and socialize regularly, and focus on other lifestyle factors that increase life expectancy.
Limit Alcohol Consumption
Doctors still have quite a bit to learn about the connection between bone loss and alcohol consumption, but studies have revealed that heavy drinking can increase the risk of osteoporosis. Some experts believe alcohol makes it difficult for the body to process key nutrients like vitamin D and calcium. The occasional drink is perfectly safe for most people, but older adults shouldn't have more than one or two servings of alcohol per day. 
Stop Drinking Soda
There are a wide variety of reasons seniors might want to avoid soda entirely. In addition to being filled with empty calories and processed sweeteners, those beverages also contain quite a bit of phosphorus. When there's too much phosphorus in the body, the bones aren't able to absorb as much calcium. Seniors who have a sweet tooth might want to switch from soda to some type of fortified juice. Many companies are now fortifying their juices with important nutrients such as calcium, fiber, and vitamin D. 
Take a Look at Current Medications
Some medications can increase the risk of osteoporosis. Seniors who have family histories of this bone condition should take a fresh look at their medications to see if it's one of the potential side effects. The doctor might suggest tapering off those medications, switching to an alternative drug, or carrying out a bone density test to see if pre-osteoporosis or another similar condition is present. 
Professional caregivers with expertise in age-related conditions can be a terrific asset for seniors who are embracing healthier lifestyle habits. If your aging loved one needs help managing everyday tasks or encouragement to adopt healthier lifestyle choices, turn to Home Care Assistance, a leading provider of senior care. Dallas Home Care Assistance provides professional in-home caregivers around the clock to help seniors live longer, happier, and healthier lives. To talk to one of our friendly Care Managers and create a customized senior care plan, call us at (214) 363-3400.