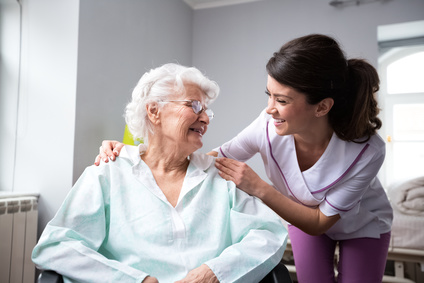 Alzheimer's disease (AD), a progressive neurodegenerative disorder affecting elderly people, gradually leads to dementia. Although researches and studies are leading us closer to finding a cure for neurodegenerative diseases, there is no definite treatment for Alzheimer's disease. As a trusted home health services agency, we understand taking care of a loved one with Alzheimer's or dementia can be an around-the-clock task and provide trained and experienced Alzheimer's care professionals committed to improving the quality of life of your loved one. Read on to learn more about how close the researchers are to finding a treatment for AD and Dementia.
New Biomarker to Detect Alzheimer's Disease
Researchers at Sanford Burnham Prebys Medical Discovery Institute (SBP) have identified a peptide that recognizes a protein that is elevated in the brain blood vessels of AD affected mice and humans. The peptide could act as a biomarker, helping in early detection of Alzheimer's disease.
Antiepileptic Drugs Increase the Risk of Alzheimer's
A new study by the University of Eastern Finland and the German Center for Neurodegenerative Diseases found that continuous use of antiepileptic drugs is associated with an increased risk of Alzheimer's disease and dementia. Some antiepileptic drugs are known to impair cognitive function, which can lead to neurodegenerative disorders in the long run.
Antidepressants and Bladder Medicines Possibly Linked to Dementia
A study led by the University of East Anglia (UK) found that people who had been diagnosed with dementia were up to 30 per cent more likely to have been prescribed specific classes of anticholinergic and antispasmodic medications. Anticholinergic antidepressants have been found to be linked with dementia, even when taken up to 20 years before a diagnosis.
Music-based Treatments to Help Alleviate Dementia-induced Anxiety
The researchers at the University of Utah Health conducted a study using a functional MRI revealing that music activates the brain, causing the visual network, the salience network, the executive network, and the cerebellar and cortical cerebellar network pairs showing significantly higher functional connectivity in people diagnosed with Alzheimer's disease, reducing anxiety.
Cancer Drugs to Prevent the Brain Inflammation caused by Dementia
According to a study conducted by UC Irvine, a certain class of cancer drugs, called "CSF1R inhibitors", which is generally used to treat immunity-related conditions and cancers, such as glioblastoma and tumors, can also eliminate the neural inflammation caused by injuries and disorders such as AD.
Looking for a Home Care Assistance Professional? Look No More!
If you are searching for Alzheimer's care experts, for your loved one, no need to look any further. Home Care Assistance of Dallas, TX has a team of trained caregivers who are committed to improving the lives of elderly loved ones by providing expert care for a number of age-related disorders including Alzheimer's disease and dementia. To learn more about our home health services and care plans, fill out our contact form or simply call (214) 363-3400.