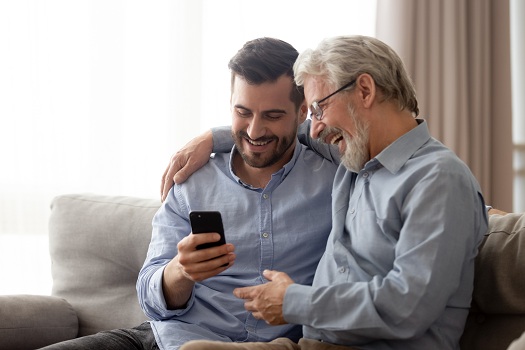 Modern technology is advancing faster than ever before. Most older adults haven't become familiar with the popular electronic devices used today. However, there are many ways seniors can gain the knowledge and skills necessary to take advantage of technological devices.  
Offer the Knowledge You've Learned
Family members have the chance to spend quality time with their senior loved ones while passing on technological skills. Grandchildren might be delighted to help a grandparent learn the basics of computers, tablets, or smartphones. Go slowly and start with simple lessons. Be patient and praise your loved one along the way. Write down instructions so he or she can refer to them in the future if needed. Visit instructional websites together and bookmark them for quick access, then watch a few videos together and answer any questions your loved one might have. 
An in-home caregiver can also assist your loved one with understanding technology. Though you may be researching multiple agencies that provide home care, Dallas, TX, Home Care Assistance has much to offer your family and your elderly loved one. We are leaders in the senior home care industry, offering proprietary programs like our holistic Balanced Care Method and around-the-clock assistance from reliable, experienced caregivers. Trust Home Care Assistance to help your loved one enjoy a happier and healthier life in the golden years.
Suggest Taking a Class
Many communities across the country recognize the need for older adults to learn how to use computers. By attending one of these workshops, seniors quickly gain the ability to at least understand the basics of using a desktop or laptop. These types of classes typically teach seniors about computer function, the internet, and safety precautions.  
Use the AARP Website as a Resource
Older adults can obtain additional knowledge by visiting the AARP website. The organization provides internet safety tips, videos, and workshops thanks to their TEK (Technology, Education, and Knowledge) Academy. The AARP has also started a fund to finance the manufacturing of tools for seniors who desire to age in place.  
Many older adults are choosing to age in place, and some need a helping hand to continue living at home safely and comfortably. Luckily, there is professional senior care seniors can trust and rely on.
Encourage Finding Instructions Online
If seniors have basic computer knowledge, there are more online sites they may visit to hone their skills. GCFLearnFree.org offers no-cost information. TechBoomers.com is another option. YouTube videos are ideal for the visual learner.  
Purchase a GrandPad
Scott Lien developed the concept for the GrandPad when his elderly mother began having difficulty using phones secondary to developing hearing loss. Skype was also too difficult for her to understand and use. The innovative pad was thus designed to help seniors access photographs, make video calls, listen to music, or play games with a simple tap of a button.  
Try Elderly-Friendly Apps
Many apps are designed specifically for older adults. For example, Pillboxie enables seniors to navigate simple menus via color coding, and the app was created as a medication reminder. The Tile app helps seniors locate misplaced keys, purses, wallets, and other personal items. By downloading the Oscar Senior app, seniors can use a tablet as a remote control, make video calls, and program medication reminders.  
Buy a No-Frills Smartphone
The Jitterbug Touch is a basic smartphone featuring a large, brightly-colored screen and a minimal number of buttons. Older adults can quickly grasp how to use the device to make phone calls, send text messages, send and receive emails, and obtain emergency assistance. 
Whether your loved one needs help understanding technology or assistance staying healthy while aging in place, an professional caregiver is the ideal solution. Every senior has different needs when aging in place. Some simply need occasional assistance with household chores, while others may be managing a serious illness and require more extensive live-in care. Dallas seniors can count on Home Care Assistance to provide the in-home care they need and deserve. To schedule a no-obligation consultation, please give us a call today at (214) 363-3400.