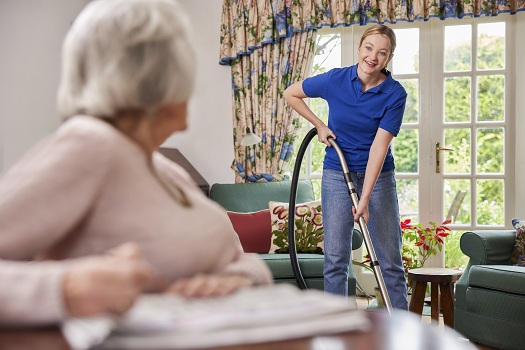 Being able to continue living at home is a big advantage for seniors. They're happier living in their own residences, taking comfort from their familiar surroundings and the homes they've spent their lives building. However, as we get older, our agility, reflexes, and eyesight diminish, and even familiar surroundings can pose dangers if we don't take care to reduce hazards. Caregivers can help keep their senior loved ones safe and healthy by safety-proofing their homes.
Safety-proofing an aging loved one's home while managing other day-to-day caregiving duties can be challenging. If you're the primary family caregiver for an elderly loved one and need additional assistance providing high-quality at-home care, Dallas Home Care Assistance can help. We are a leading home care agency committed to changing the way seniors age.
Preventing Falls
Falls are the leading cause of fatalities and the most common cause of injuries requiring hospitalization among older adults. About a quarter of all people 65 and older in the U.S. will experience falls this year. Because seniors' bones are weaker and their bodies take more time to heal, falls can have serious consequences.
Even if falls aren't fatal, they can have a huge impact on quality of life. For example, a senior who falls and breaks his or her hip could face a long recovery period and lose the ability to live independently. According to the Fall Prevention Center of Excellence, about 55 percent of all fall injuries among seniors occur at home. Another 23 percent happen in locations outside but near the house, such as on decks and steps. Bedrooms and living rooms appear to be the most hazardous areas of the home, with 61 percent of falls happening in those areas.
Home caregivers can protect their loved ones and ensure they remain in their homes by taking steps to eliminate fall hazards. Some fall-prevention tips for seniors' homes include:
Remove cords from trafficked areas – Extension cords and other electrical cords can cause seniors to trip and fall. Go from room to room in your loved one's home and relocate any cords that may pose a fall hazard.
Install night lights in hallways and bathrooms – Reduced visibility at night can make seniors more likely to fall. To mitigate this hazard, place night lights in areas such as bathrooms and hallways where your loved one may walk at night. Choose night lights that activate automatically in low light conditions. Adding touch-activated lamps to bedside tables is also an excellent idea, as is installing stair lights in two-story and split-level homes.
Remove or secure area rugs – Loose area rugs can cause seniors to slip and fall. To reduce fall risk, remove area rugs from the home or use adhesive products to secure the rugs firmly to the floor.
Install handrails – For areas of the home with stairs or steps, install handrails to help your loved one stay balanced. Regularly inspect handrails to ensure they're securely attached to walls, as unsecured handrails may cause falls.
Take care of wet floors immediately – Wet floors are a major fall hazard for seniors. Clean up any spills immediately, and make sure to only use non-skid wax on waxed floors. Also inform your loved one of any spills or other wet spots on the floor.
Be wary of pets – Pets provide companionship and joy for seniors, but they can also pose a fall hazard. Restricting pets to certain areas of the house or attaching bells to their collars can reduce fall risk.
Install nonslip items in bathrooms – Bathrooms are a frequent site of falls for seniors. Slippery tile floors, wet conditions, and slick bathtubs can make it easy for seniors to fall. You can reduce fall risk in bathrooms by putting nonslip strips or rubber mats in bathtubs and applying a nonslip coating to floors. Grab bars in showers and the areas around toilets can also prevent falls.
Safety-proofing a senior's house while managing caregiving duties can be overwhelming for family caregivers. If you're feeling burned out, consider hiring a professional caregiver. If you're the primary caregiver for a senior family member and you need respite care, Dallas, TX, Home Care Assistance is here to help. Our respite caregivers are trained to assist older adults with a wide variety of everyday tasks, including meal prep, physical activity, and personal hygiene. We also provide 24-hour care and specialized care for seniors with Alzheimer's, dementia, and Parkinson's.
Avoiding Other Types of Safety Hazards
Falls aren't the only risk seniors face at home. Seniors may also be injured by burns, electrical shock, falling objects, and other hazards. Take these steps to prevent other sources of potential injury:
Make changes in the kitchen – Many seniors love to cook, but memory and agility issues may make this activity hazardous for them. You can reduce risks in the kitchen by adding temperature-controlled cookware as well as systems that automatically turn off stoves and ovens. You may also need to convince your loved one to cook only when someone is nearby to assist. Adding lightweight plates to the kitchen may also prevent injuries.
Check for electrical hazards – Electrical shock can cause injury and even death. Make sure devices are correctly plugged into electrical outlets and that power strips and extension cords are in good condition and used properly.
Move objects to lower shelves – Seniors may not have the strength and agility to safely reach objects on high shelves. They may be injured if they try to retrieve things from high shelves and the objects fall on them. You can increase safety by relocating items to lower shelves and only storing items that have a low likelihood of causing injury, such as towels and toilet paper, on higher shelves.
Talk about safety with your loved one – You can also reduce the risk of injury by encouraging your loved one to be mindful of his or her safety. Regular conversations about safe practices can reinforce the importance of safety and remind your parent of how to avoid hazards. Take care not to sound nagging or patronizing, but conversations about safety are essential.
Purchase an emergency alert system – Communications can be a challenge for safety, especially for seniors who live alone. With emergency alert systems, seniors can call for help in the event of a fall or other medical emergency. These wearable devices ensure seniors always have a lifeline in case of emergencies.
One of the most challenging tasks of helping an elderly relative age in place safely and comfortably is researching agencies that provide elder care. Dallas families can turn to Home Care Assistance for reliable, high-quality in-home care for aging adults. We offer 24-hour live-in care for seniors who require extensive assistance, and we also offer respite care for family caregivers who need a break from their caregiving duties. If you need professional care for your loved one, reach out to one of our Care Managers today at (214) 363-3400.