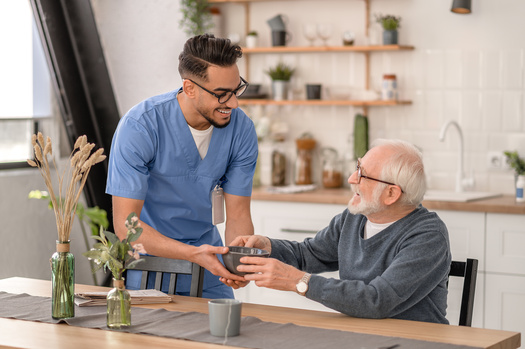 When you've always viewed yourself as a positive person, you may be shocked to discover negative thoughts creeping in once you become a caregiver. Negative thinking is typically a sign of excessive stress buildup, and you may need to focus on remaining positive for the following reasons. 
Your Attitude Influences Your Loved One's Mood
When people spend most of their days together, they may end up influencing each other's feelings. While you might think you're doing a good job hiding your negativity, it's possible your senior loved one still picks up on the tension. With every fake smile or tense muscle in your expression, your loved one becomes more aware of how you really feel. When you shift to positive thoughts, your new mindset is often reflected in your actions. Seeing a genuine smile on your face or hearing the relaxation in your voice may help your loved one feel a greater sense of happiness. 
Caring for a senior loved one can be challenging for families who don't have expertise or professional training in home care, but this challenge doesn't have to be faced alone. Family caregivers can turn to Dallas Home Care Assistance for the help they need. We provide high-quality live-in and respite care as well as comprehensive Alzheimer's, dementia, stroke, and Parkinson's care.
A Positive Mindset Helps You Stay Open to New Possibilities
Try not to get stuck in a rut that causes you to stop exploring new ways to help your loved one stay healthy and independent. For example, new strategies are constantly being developed to help older adults manage chronic health conditions such as dementia and heart disease. When you keep an open mind, you're better able to incorporate changes into your loved one's life that foster greater independence. 
Living independently is important for seniors who want to maintain a high quality of life. For some, this simply means receiving help with tasks that have become more challenging to manage over time. Even when families have the best intentions, they may not have the time to provide the care their elderly loved ones need and deserve. If your loved one needs help for a few hours a day or a few days a week, reach out to Home Care Assistance, a trusted provider of respite care Dallas seniors can depend on.
Negativity Lowers Energy Levels
Having a negative attitude could cause you to let go of healthy habits. For instance, giving up exercise might lead to further fatigue. Developing a positive frame of mind can help you maintain higher energy levels throughout the day. 
Staying Positive Prevents Burnout
Caregiver burnout often begins with negative thoughts that continuously cause you to feel overwhelmed. For this reason, you should view negativity as a sign you may be doing too much. Watch out for negative thoughts that keep coming up, since they could indicate a need for change. For example, you may need to arrange for assistance with your loved one's care if your negative thoughts tend to reflect a lot of guilt. By addressing the reasons for your negative thoughts, you can shift them to positive ideas and prevent burnout. 
Maintaining a positive attitude can be a difficult task, especially for a lonely and overworked caregiver. Families who need help caring for senior loved ones can turn to Home Care Assistance, a leading provider of Dallas senior care. Services available in our customizable care plans include meal prep, mental and social stimulation, assistance with personal hygiene tasks, and much more. For reliable in-home care services, contact us at (214) 363-3400.