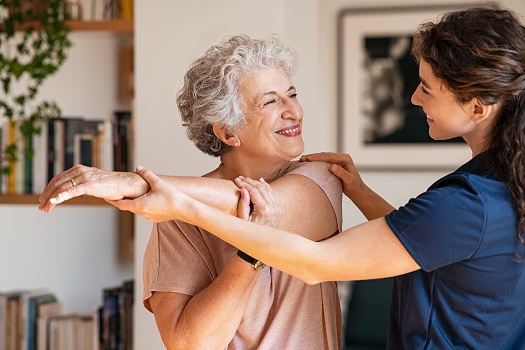 Emphysema is one of the most serious health conditions seniors face. This degenerative condition gradually results in damaged alveoli that cannot properly absorb oxygen. Seniors with emphysema may find it difficult to breathe and may experience the damaging effects of low oxygen levels. Here are a few ways aging adults can prevent emphysema.
1. Exercise Regularly
It may be unpleasant to exercise vigorously when living with emphysema, but even a gentle walk can help the lungs function better. Strengthening neck and chest muscles allows for easier breathing, and the deep breathing can enhance lung capacity. Encourage your aging loved one to get cardio exercise at least a few times each week to prevent severe emphysema. Some people find swimming particularly beneficial because the humid air is soothing to the lungs. 
A professional caregiver can help your loved one exercise in safety at comfort at home. In Dallas, home care agencies can be a great boon to seniors. With the help of the caregivers at Home Care Assistance, your aging loved one can lead a happier and healthier life. We offer a revolutionary program called the Balanced Care Method, which encourages seniors to eat nutritious foods, exercise and socialize regularly, and focus on other lifestyle factors that increase life expectancy.
2. Maintain a Healthy Weight
Being either overweight or underweight can cause breathing issues. Overweight seniors have difficulty breathing properly because their excess weight puts more pressure on the lungs. However, seniors with emphysema often end up losing too much weight because their attempts to breathe can burn more calories. Being too thin can cause health problems that exacerbate emphysema symptoms. If you're worried about your loved one developing emphysema, you may need to work with a doctor or nutritionist to find a diet that meets your loved one's needs. 
3. Breathe Less Polluted Air
Breathing in pollutants can damage lungs on a cellular level, and this type of consistent lung inflammation can lead to emphysema. It can be difficult to avoid all air pollution in a busy city, but there are still steps you can take to ensure your loved one breathes cleaner air. If possible, install an air filter in your loved one's bedroom. Get rid of aerosol cleaners or toiletries, and remind your loved one to not linger in areas with smoke, dust, or chemicals. Consider investing in indoor plants that filter air and expel fresh oxygen.
Aging adults with emphysema often find it challenging to accomplish everyday tasks on their own. If your aging loved one needs occasional help with bathing, grooming, cooking, or other basic household tasks, or if you need time to attend to important personal matters, reach out to Home Care Assistance, a leading provider of live-in and respite care. Dallas seniors can maintain their independence while living at home with the help of our reliable respite caregivers.
4. Add Antioxidants to the Diet
Since emphysema is caused by inflammation due to lung damage, your loved one should try to lower inflammation whenever possible. Antioxidants are certain naturally occurring compounds that reduce and prevent inflammation damage. Both vitamin E and vitamin C are strong antioxidants, and other antioxidants can be found in foods such as green tea, blueberries, ginger, garlic, spinach, olive oil, blackberries, and turmeric. 
5. Avoid Smoke
This is the most important way of preventing emphysema. If your loved one smokes tobacco, encourage him or her to quit. There are many smoke-free alternatives, such as prescription nicotine inhalers and over-the-counter nicotine patches, that are easier on the lungs. Even if your loved one doesn't smoke, he or she should try to avoid secondhand smoke. Secondhand smoke can be particularly damaging in the home, so you may need to have a serious talk with other household members about your loved one's health.
There are a variety of age-related health conditions that can make it more challenging for seniors to live independently. However, many of the challenges they face can be easier to manage if their families opt for professional elderly care. Dallas families can rely on expertly trained caregivers to keep their loved ones safe and comfortable while aging in place. To create a customized home care plan for your loved one, call Home Care Assistance at (214) 363-3400 today.