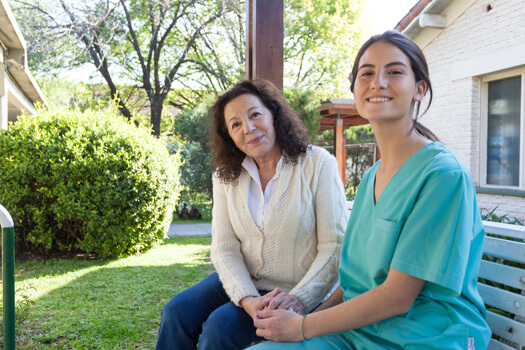 Statistics indicate more than 34 million adults in the United States act as caregivers for older adults. More than 85 percent of caregivers report the job is stressful. If caregivers don't take sufficient steps, stress turns into burnout, which can leave them emotionally, mentally, and physically exhausted to the point of being negative and unconcerned. If you're a caregiver who is feeling overwhelmed, there are many strategies you can try to prevent burnout.
Know Your Limits
Don't expect more of yourself than can be safely handled. Assess the situation. Determine what aspects of your daily life you have control over and what factors are beyond your control. Don't spend an inordinate amount of time and energy trying to change circumstances that cannot be changed. 
You may feel overwhelmed by your caregiving responsibilities, but you don't have to manage everything by yourself. Seniors can face a variety of age-related challenges. Though some families choose to take on the caregiving duties, there may come a time when they need a trusted Dallas in-home care provider. Families sometimes need respite from their duties so they can focus on their other responsibilities, and some seniors need around-the-clock assistance that their families are not able to provide.
Monitor Personal Health
To be able to handle caregiving responsibilities throughout the day, you must stay healthy and strong to withstand the stress of providing care for your loved one. Instead of grabbing a quick meal of fast food, follow a consistent diet of healthy foods so your body has the nutrients needed for energy and cellular repair or replication. A healthy diet also enables the brain to create the neurotransmitters needed to maintain emotional and mental health. You also need to get an adequate amount of sleep, and you can maintain your physical strength and endurance by adopting a routine fitness regimen.
Get Plenty of "Me" Time
Caregivers must take breaks from time to time. Set aside a few hours to read, relax, watch TV, or enjoy a hobby. Consider taking annual vacations or scheduling periodic weekend getaways. Activity that alleviates stress while encouraging relaxation and clarity of mind is necessary to prevent burnout.
Hire Respite Care
Respite care involves having a professional caregiver come to your loved one's home and provide the assistance needed. Respite caregivers are trained and experienced in many aspects of non-medical care. Realizing you need help to perform your caregiving duties isn't a sign of weakness or incompetence. Allowing others to assist is a way to maintain your overall health. Plus, there needs to be a backup plan in the event of illness or emergency. Someone needs to step in and assume the role of caregiver when you need time off. 
Family caregivers don't have to put their own wellbeing at risk to make sure their loved ones receive proper support. Caring for a senior loved one can be rewarding, but it can also be overwhelming for family caregivers who have other responsibilities they need to focus on. For these families, the perfect solution is respite care. Dallas families rely on our caregivers whenever they need time to rest, work, run errands, and even go on vacation.
Stay Connected
The many responsibilities you assume could easily overtake your life and leave little time for connecting with friends or other family members. However, without an adequate social network, you may find yourself without an outlet for your thoughts and feelings, and the negativity that may arise from time to time will no longer be balanced by the joy and happiness of being around others. Take some time each week or month to reconnect with your network and rejuvenate. 

Hiring a professional caregiver can be a wonderful option for family caregivers who are on the verge of burnout. When you search for a professional caregiver, you're looking for someone with experience in senior care who's compassionate and trustworthy. One of the most challenging tasks of helping an elderly relative age in place safely and comfortably is researching agencies that provide elder care. Dallas families can turn to Home Care Assistance for reliable, high-quality in-home care for aging adults. We offer 24-hour live-in care for seniors who require extensive assistance, and we also offer respite care for family caregivers who need a break from their caregiving duties. If you need professional care for your senior loved one, Home Care Assistance is just a phone call away. Reach out to one of our Care Managers today at (214) 363-3400.