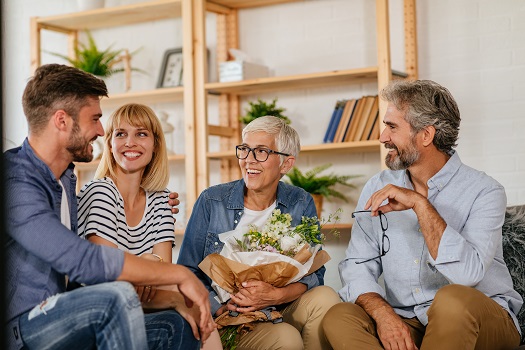 Family caregivers don't expect people to thank them for doing what they do every day. Instead, they focus on doing what needs to be done, and this may sometimes cause them to feel their efforts go unnoticed. Saying "thank you" can provide the strength caregivers need to keep going, and these six ideas are all great ways to show appreciation to the family caregiver in your life.
1. Offer a Surprise of Help
Giving your favorite family caregiver the gift of assistance at your senior loved one's home is a wonderful way to demonstrate gratitude. For instance, you might arrange for someone to help out with the housekeeping, which shows the caregiver you notice how much he or she does each day. The caregiver will appreciate the extra time to do more enjoyable activities with your loved one.
You and other family members might also want to consider hiring a respite caregiver. Family caregivers sometimes need a break from their caregiving responsibilities. When they need respite care, Dallas families can rely on professional caregivers to help their senior loved ones remain safe at home.
2. Write Down a Few Heartfelt Words
A thank-you note can be as simple as a few special words you write down on a slip of paper, or you can go all-out with an elegant card. Either choice is great, and your family caregiver will be able to read the note again whenever he or she needs to lift his or her spirits. This idea will be even more meaningful if you can get other people in your life to add a few sweet sentiments of their own.
3. Put Together an Appreciation Basket
Family caregivers sometimes do things such as skip snacks or even showers when their days get busy. An appreciation basket that's filled with a lot of little things to use during breaks reminds the caregiver to take time out for him or herself. Scented soaps, candles, and even a breakfast bar or two are all gifts a caregiver will appreciate. You can also throw in a paperback novel or a new movie the caregiver can enjoy during breaks.
Seniors can face a variety of age-related challenges. Though some families choose to take on the caregiving duties, there may come a time when they need a trusted Dallas senior home care provider. Families sometimes need respite from their duties so they can focus on their other responsibilities, and some seniors need around-the-clock assistance that their families are not able to provide. Home Care Assistance is here to help.
4. Give a Gift Card
People sometimes don't realize how much of their own money caregivers often spend just helping their loved ones out. For instance, they may need to fill up their gas tanks more often than normal when their loved ones need help getting to medical appointments. Gift cards to the local gas station or grocery store are often appreciated, and your family caregiver can use them as needed to make his or her role more financially feasible.
5. Make a Seasonal Craft
Family caregivers may not have much time to decorate for the different seasons, and you can create something to smile about. From a bouquet of spring flowers to a lovely holiday wreath, your family caregiver will love having a way to decorate without putting in a lot of time and effort to make the home look nice.
6. Offer Verbal Praise
It only takes a few seconds to offer a few words of thanks, but your expression of gratitude will linger with a family caregiver for the rest of the day. If you find the words difficult to say, send a text. Hearing "thank you" can make caregivers feel more confident about their ability to keep doing a great job.
Another great way to express your appreciation for a family caregiver is to help him or her find a compassionate professional to help with the caregiving duties. One of the most challenging tasks of helping an elderly relative age in place safely and comfortably is researching agencies that provide elderly care. Dallas families can turn to Home Care Assistance for reliable, high-quality in-home care for aging adults. We offer 24-hour live-in care for seniors who require extensive assistance, and we also offer respite care for family caregivers who need a break from their caregiving duties. We will work with you to create a customized home care plan that's suited for your loved one's unique needs. Call the Home Care Assistance team at (214) 363-3400 today.