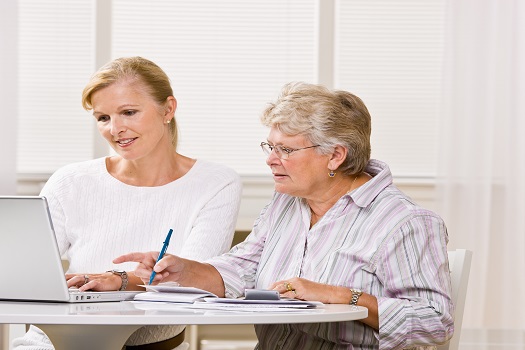 One of the top issues for older adults is financial stress, which can be caused by a lack of income, elder scams, high medical bills, and other situations. Family caregivers should step in to safeguard their senior loved one's retirement and reduce financial anxiety. Below are tips you can use to help your loved one manage his or her finances.
1. Discourage Using Cash
Misplacing items is common for older adults as they age and their memory continues to decrease. To avoid losing money, your loved one should stop paying for things with cash and use a debit card instead. There's no guarantee misplaced cash will be returned, but if your loved one misplaces his or her debit card, you can report it immediately and dispute any fraudulent charges. 
Forgetfulness or poorly managed finances may indicate your loved one needs help with other everyday tasks. If your senior loved one needs help managing an illness or assistance with daily tasks, make sure you choose a top-rated provider of elder care. Dallas Home Care Assistance is here to help your loved one live a happier and healthier life in the golden years. From the mentally stimulating activities in our Cognitive Therapeutics Method to our friendly Care Managers who are available to answer your questions 24 hours a day, we offer a wide array of high-quality at-home care services.
2. Find Low-Cost Health Insurance
Paying for prescriptions, doctor visits, surgical procedures, and other treatments can be expensive for older adults, especially those without health insurance. See what medical assistance programs your loved one qualifies for to ensure he or she always has access to high-quality care. When choosing an insurance plan, find out if your parent qualifies for discounts based on his or her age, location, income, and current health. Finding the most effective and cost-efficient insurance coverage could help your loved one financially without compromising his or her wellbeing.
3. Monitor Your Loved One's Credit Report
Older adults are at higher risk for scams and identity theft due to poor cognitive health and communication challenges. Monitor your loved one's credit report regularly to prevent fraud. It's also a good idea to check bank and credit card accounts for unusual activity.
The many tasks involved in helping your loved one handle his or her finances may seem daunting, and the extra worry can take a toll on your wellbeing. Caring for a senior loved one can be rewarding, but it can also be overwhelming for family caregivers who have other responsibilities they need to focus on. For these families, the perfect solution is respite care. Dallas families rely on our caregivers whenever they need time to rest, work, run errands, and even go on vacation. 
4. Suggest Downsizing
Maintaining a home can be expensive for seniors on fixed incomes whose bills total more than they receive in retirement benefits. Downsizing can lower monthly expenses and benefit your parent's cognitive and physical health. Explain to your loved one that downsizing can help him or her age in place without compromising privacy or safety.
5. Make Monetary Contributions
Your family could cover the cost of your loved one's utilities, pay for his or her groceries each week, or help out with his or her home care expenses. Speak with your siblings to see if they can pitch in and help with some of the bills. Remind them that any amount of money they contribute could benefit your loved one by reducing financial stress. If your siblings are unable to help financially, they could donate their time. For instance, taking your loved one to run errands or assisting with meal prep and household chores can reduce costs.
6. Encourage Your Loved One to Join a Support Group
Older adults are never alone when it comes to financial hardships. They can join support groups to receive emotional reinforcement and valuable tips about financial challenges from counselors and other seniors. The group members could give your loved one information about the benefits he or she may be qualified to receive. If there are no local support groups, your parent can join an online forum to reach out to other seniors.
Financial management is a challenge for most people, and it can be even more difficult for aging adults. Seniors can face a variety of age-related challenges. Though some families choose to take on the caregiving duties, there may come a time when they need a trusted Dallas homecare provider. Families sometimes need respite from their duties so they can focus on their other responsibilities, and some seniors need around-the-clock assistance that their families are not able to provide. Home Care Assistance is here to help. Schedule a free in-home consultation by giving us a call today at (214) 363-3400.