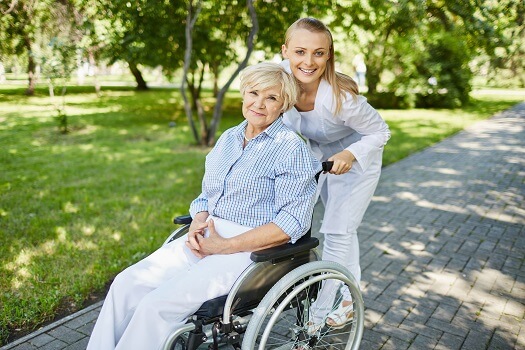 Good family caregivers recognize they need help and don't wait to get it, even if that means hiring a professional to help out with their aging loved one's care. Respite care is one of the most efficient caregiving options, freeing up family caregivers' time without compromising their loved ones' health or safety. Here are some of the top benefits family caregivers receive when they take advantage of respite care services.
1. Eases Tension
When you devote a great deal of your time and finances to care for your parent, it's normal to have feelings of frustration and resentment, even if you don't care to admit it. However, keeping these feelings bottled up could make the atmosphere tense for you and your loved one. Hiring a respite caregiver to come in and relieve you of your duties allows you to take time away to regroup and come back with a better attitude and a clean slate.
A trained professional caregiver can be an extremely valuable member of your caregiving team. There are a variety of age-related health conditions that can make it more challenging for seniors to live independently. However, many of the challenges they face can be easier to manage if their families opt for professional senior care. Dallas families can rely on expertly trained caregivers to keep their loved ones safe and comfortable while aging in place.
2. Prevents Bad Habits
Being overworked and exhausted can cause family caregivers to turn to bad habits such as smoking or drinking. These dangerous habits might provide temporary relief, but these substances can damage your organs and cause more anxiety. Instead of turning to bad habits to manage the stress of caregiving, hire a respite caregiver to come in and give you some much-needed time away to refocus.
3. Allows Time to Catch Up on Rest
Caregiving can be mentally and physically draining, especially if you fail to get enough sleep at night. The lack of sleep could be due to your work schedule, caregiver role, and other commitments. It's vital to get plenty of rest to prevent burnout and stay healthy. You can use respite care services anytime you need help, especially if you need to catch up on rest.
Family caregivers need to care for their own wellbeing. There are a variety of reasons family caregivers should consider respite care. Dallas, TX, families often have additional responsibilities that make it more challenging to provide the care their senior loved ones need and deserve. A professional respite caregiver can take over your important caregiving duties, allowing you more time to focus on yourself.
4. Provides Separation
Isolation is common in family caregivers because they become consumed with their loved ones' health and withdraw from society. It may be difficult to allow other people to step in and help with your loved one's care, but you need to take time away to socialize with friends and other family members. A few days away from your parent and caregiving duties could be precisely what you need to maintain a sense of identity.
5. Frees Up Time for Self-Care
While caring for your loved one, you might forget to care for yourself, but you need to continue visiting the doctor for annual exams, screenings, and other services. You should also work on personal goals as often as possible. With respite care, you can take time off to visit the doctor, develop a new caregiving schedule, and decompress.
6. Strengthens Other Relationships
Caring for your parent could negatively impact relationships with your spouse, children, friends, and other family members. It's easy to neglect those relationships when you have to divide your time between work and caregiving. However, respite care allows you to schedule dates, outings, or mini-vacations with the people you've neglected since becoming a family caregiver.
Of course you want to be an amazing caregiver for your loved one, but don't be too critical of yourself if you find it overwhelming at times. When researching agencies that provide elder care, Dallas, TX, families are usually looking for flexible care plans, compassionate and highly trained caregivers, and 24/7 availability. Whether you need respite care to take a break from your caregiving duties or your senior loved one needs around-the-clock assistance at home, you can rely on Home Care Assistance. Call us today at (214) 363-3400 to discuss how we can give you the peace of mind that comes from knowing your loved one is being cared for with professionalism and compassion.