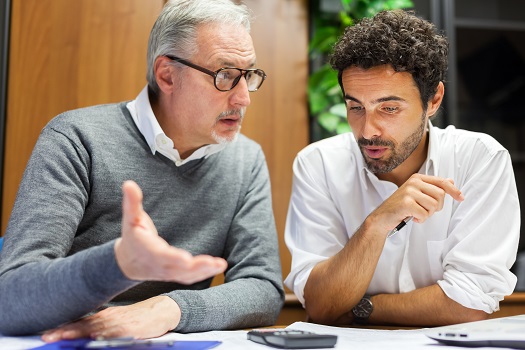 The elderly are vulnerable to scammers who can use their natural concerns about money and family to talk them into buying unnecessary or even nonexistent insurance policies. Seniors and their caregivers should take scam prevention seriously. As your loved one works on post-retirement planning, these strategies can help him or her avoid some of the most common insurance scams.
Seniors can face a variety of challenges as they age, many of which can be mitigated with the help of professional in-home caregivers who provide high-quality elderly care. Dallas families trust Home Care Assistance to help their elderly loved ones age in place safely and comfortably.
Know How Much Insurance Is Necessary
The sign of an insurance scammer is someone who tries to convince seniors to buy more insurance than they actually need. Assess your loved one's financial obligations by adding up his or her debts and assets. Then subtract the amount from what your loved one currently owes. Remember to include mortgage, auto, and student loan payments in this figure. The total left after subtraction gives a clue about how much your loved one should seek for an insurance policy.
Search for a Trusted Company
Typically, a company that has been in business for years will have established a reputation for providing trustworthy services. However, your loved one can also opt for a newer company, but only after doing some research. Check with the National Association of Insurance Commissioners to find out if complaints have been registered against the company, and you can also search online for reviews to learn about other people's experiences.
Preventing insurance scams is just one way you can help your loved one. The type of senior care Dallas, Texas, seniors need can vary. Some need assistance a few hours a day, while others require more extensive around-the-clock assistance. At Home Care Assistance, we tailor our care plans based on each senior's individual care needs, and the plans can be adjusted at any time.
Ask for Another Opinion
Sometimes insurance scams happen to seniors who already have life insurance. Often brokers talk to seniors about increasing their coverage even when they haven't experienced new life events that could generate a need. In such cases, it's best to ask for a second opinion. There's always the possibility the broker is responding to an increase in the cost of living or a change your loved one didn't think would affect his or her finances, such as a change in property values. 
Make Sure Payments Are Counted
Sometimes a scammer poses as a broker from a reliable company. Always call the company to check up on an agent who arrives at your loved one's door. If your loved one does purchase a policy, he or she will need to double-check to find out if payments are going to the company. If not, report the broker to the authorities so others don't fall prey to the scam.
Determine if Insurance Is Still Needed
There are many times when having life insurance makes sense, especially when a senior has accumulated debts such as student loans that may still be owed after death. However, seniors who have paid off all their debts may find life insurance payments to be a burden. Your loved one may decide to cash them in to enhance his or her quality of life. Seniors should be aware they no longer need insurance so they don't purchase policies from overeager salespeople.
For families living in Dallas, respite care can be a wonderful solution when their aging loved ones need companionship and socialization a few hours a week or just need minor assistance with daily household tasks. At Home Care Assistance, we thrive on helping seniors maintain their independence while living in the comfort of home. If your loved one needs help with the challenges of aging, call one of our compassionate Care Managers today at (214) 363-3400.