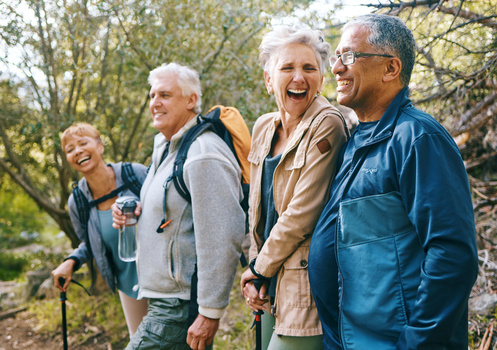 Staying physically fit can prevent various age-related conditions and boost mental and physical wellbeing. Seniors need to develop healthy habits to burn calories, build lean muscle, and stay in good shape. Below are some of the ways your senior loved one can maintain a healthy body in the senior years. 
Exercise
The best way to stay physically fit in the golden years is with regular physical activity. Living a sedentary lifestyle puts seniors at risk for obesity as well as other health problems, such as diabetes, cardiovascular disease, and dementia. 
When developing a safe and effective workout routine, include your loved one's preferences, and base the activities on his or her strengths as well as his or her physical and mental limitations. The objective is to help your loved one maintain a healthy body without increasing the risk of accidents and injuries. 
Home care can be a wonderful solution when seniors need companionship and assistance with exercise a few hours a week or just need minor assistance with daily household tasks. In Dallas, elder care agencies can be a great boon to seniors. With the help of the caregivers at Home Care Assistance, your aging loved one can lead a happier and healthier life. We offer a revolutionary program called the Balanced Care Method, which encourages seniors to eat nutritious foods, exercise and socialize regularly, and focus on other lifestyle factors that increase life expectancy.
Get Plenty of Rest
Seniors can shed pounds when they sleep, which benefits their weight loss goals. Staying well rested can also boost energy levels and lower the odds of inactivity throughout the day. To enhance your loved one's sleeping habits, minimize background noises at night. Encourage your loved one to develop a good bedtime routine that includes taking a warm bath or shower, disconnecting from the television or laptop, and avoiding heavy snacks and activities too close to bedtime. 
Socialize
Interacting with other people could lead to more physical activity. Therefore, you should promote socialization. Encourage your loved one to volunteer at a local nonprofit, run for a charity event, help out at an animal shelter, or donate time to organize a community event. Your loved one can also join dance groups and local sports teams, care for a pet, or go on adventures with the grandchildren. Socializing can stave off mobility issues that prevent seniors from maintaining active lives. 
Eat Nutritious Meals
The foods your loved one eats could cause him or her to gain too much weight or lead to excessive weight loss. However, consuming meals full of protein, fiber, calcium, and other healthy vitamins and minerals could increase your parent's odds of maintaining a healthy body in the senior years. Encourage your loved one to limit his or her consumption of foods and beverages that are full of sugar and have no nutritional value, such as cookies, pasta, candies, cakes, soda, and energy drinks. 
Eating nutritious foods is one of the many ways seniors can boost their health and enjoy a high quality of life. If your elderly loved one needs help maintaining a high quality of life while aging in place, reach out to Home Care Assistance, a trusted provider of Dallas senior care. Our caregivers provide transportation to and from medical appointments and social events, nutritious meal preparation, assistance with daily exercise, and help with everyday tasks like bathing, grooming, and light housekeeping.
Go to Regular Doctor Visits
Family physicians can help seniors find healthy and attainable diets or recommend nutritionists who assist with weight management. Doctors can also help seniors craft exercise regimens that make it easier to lose weight and keep it off. Your loved one's primary care physician may suggest medical options, especially if your loved one has an obesity-related disease. Attending regular doctor visits can boost your parent's physical, mental, and emotional health while lowering the risk of various age-related conditions that impact his or her overall wellbeing. 
Seniors who need help making healthier lifestyle choices can benefit from professional at-home care. If your senior loved one needs hourly or live-in care, Dallas Home Care Assistance can help. Our caregivers can assist with exercise and mobility, prepare nutritious meals, provide timely medication reminders, and help with a wide array of other important daily tasks. Call Home Care Assistance at (214) 363-3400 to learn more about our flexible and customizable senior care plans.