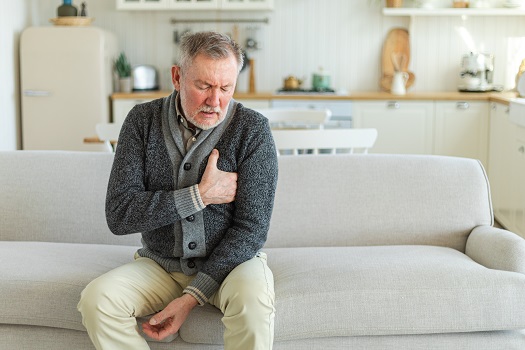 Heart disease claims the lives of 500,000 women every year. It's one of the leading causes of death in women 65 years of age and older, and it's also one of the main reasons behind disability in senior women. Although women tend to develop heart problems later than men, both genders are susceptible to cardiovascular disease during the senior years. 
For decades, the techniques used for detecting and treating cardiovascular disease were primarily determined by studying men. However, the methods weren't always successful in detecting heart conditions in women. The National Heart, Lung, and Blood Institute found heart disease symptoms commonly vary between the two genders.
Male Cardiovascular Disease Symptoms
According to Dr. Gabriela Grasa, the Director of Outreach for Cardiology Services at White Plains Hospital, men and women with cardiovascular disorders may not necessarily experience heart attack symptoms in the same way. Common male symptoms include:
Sudden and crushing chest pain

Pain on the left side of the breastbone or the upper chest

Chest pain radiating to the left shoulder and inside the left arm

Chest pain radiating to the neck and jaw

Chest pain radiating to the back, arms, or abdomen

Shortness of breath

Lightheadedness

Heartburn

Palpitations
Seniors can face a variety of age-related challenges. Though some families choose to take on the caregiving duties, there may come a time when they need a trusted Dallas in-home care provider. Families sometimes need respite from their duties so they can focus on their other responsibilities, and some seniors need around-the-clock assistance that their families are not able to provide. Home Care Assistance is here to help.
Female Cardiovascular Disease Symptoms
On the other hand, women's symptoms are less intense and commonly don't include chest pain. Female cardiac symptoms include: 
Abdominal pain or discomfort similar to heartburn

Nausea and possible vomiting

Dizziness

Fainting

Profuse sweating

Pressure or tightness in the chest region

Pain radiating down one or both arms

Sleep disturbances
Both genders may experience fatigue, difficulty breathing, weakness, and pain. Living with serious health conditions can make it challenging for seniors to age in place. However, they can maintain a higher quality of life with the help of professional live-in care. Dallas seniors can benefit from assistance with meal prep, bathing, transportation to the doctor's office, medication reminders, and much more.
Physiological Differences
Dr. Janine Austin Clayton, Associate Director for Research on Women's Health and Director of the Office of Research on Women's Health at the National Institutes of Health (NIH), explains the reasons for the difference in cardiac symptoms. One difference involves the way vascular disease occurs in men and women. In men, plaque development typically affects one small area of a vessel.
When a man experiences heart attack symptoms, an angiogram is performed, which enables physicians to locate the blockage in the arteries. In women, plaque tends to line blood vessel walls like a coating and starts to build up. Angiograms fail to detect the problem, as blood continues flowing through the narrowed vessel.
Multiple tests are required to correctly detect heart disease in women, including:
Blood tests

Chest X-rays

Coronary catheterization

CT scans

Echocardiography

Electrocardiography

MRI

Stress tests
Cardiovascular disease symptoms can be misdiagnosed in senior women, which causes delays in treatment. The lack of proper diagnosis and delayed treatment are believed to be major factors as to why so many women die from cardiovascular disease. 
Not every senior has the same care needs, which means they don't all need the same type of elderly care. Dallas families can rely on Home Care Assistance to provide individualized care plans to meet their elderly loved ones' unique care needs. Our holistic Balanced Care Method was designed to help seniors focus on healthy lifestyle habits such as eating nutritious foods, exercising regularly, and maintaining strong social ties, and our Cognitive Therapeutics Method offers mentally stimulating activities that can boost cognitive health and delay the onset of dementia. Whether your parent needs minor help with daily tasks or extensive 24-hour care, give us a call at (214) 363-3400 today.