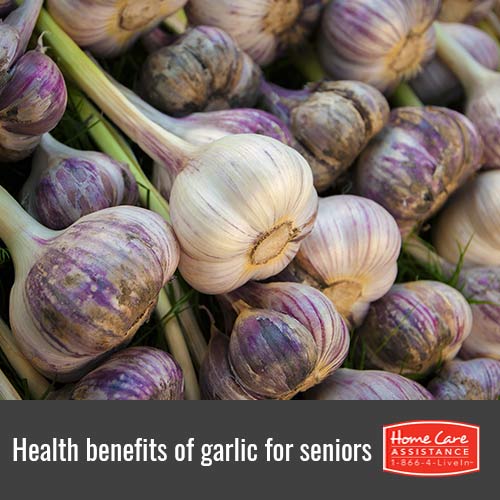 In ancient Greece, physician Hippocrates documented his use of garlic as treatment for anything from parasitic and respiratory infections to digestive problems and fatigue. Similar medical treatments were common in ancient Egypt. The knowledge eventually spread to Middle Eastern and Asian cultures before making its way to Europe. University of Maryland Medical Clinic and other researchers worldwide learned that the key to garlic's health benefits lays in the compound known as allicin. This chemical exists whether garlic is consumed in fresh cloves, powdered or salted powdered form and is the primary reason Dallas 24 hour care providers recommend seniors eat more of it.
Has Antiviral Properties
In 2001, researchers published results of a garlic study in the Advances in Therapy journal. The information suggested that allicin has the ability to dramatically reduce the duration of colds by up to 63 percent. Garlic was also shown to reduce the severity of cold symptoms from five days to a day and a half. 
Reduces Blood Pressure
Over a 24-week period in 2013, Pakistani scientists documented results of garlic's effects on hypertension. The findings were published in the Pakistan Journal of Pharmaceutical Sciences. Researchers found that individuals diagnosed with hypertension who took 600 to 1,500 milligrams of garlic supplements daily experienced a reduction in blood pressure comparable to taking a beta-blocker medication. Consequently, Dallas in-home stroke care providers will often incorporate garlic in meals to help seniors reduce reccurrence of stroke. In addition to acting as an anti-inflammatory agent, the sulfur content has the ability to relax the smooth muscle of blood vessels, thereby allowing blood to travel easily throughout the body. 
Decreases Risk of Heart Disease
Scientists published study results in a 2000 issue of the Annals of Internal Medicine that described how garlic effectively lowered cholesterol levels. A spokesperson for the Academy of Nutrition and Dietetics reported that garlic accomplishes this by inhibiting a liver enzyme that produces cholesterol. Garlic also interferes with blood clotting and helps dissolve forming clots. Taking garlic supplements regularly ensures that the combined actions help reduce the risk of developing heart disease. 
An important aspect of senior health is eating the right foods, but sometimes seniors have trouble preparing meals alone. When you turn to reliable elder care Dallas families can trust from Home Care Assistance, our dedicated professionals will help your loved one prepare nutritious meals and maintain a healthy diet. We promote senior health and wellbeing while helping seniors with daily activities like housekeeping, laundry, and grocery shopping. To learn more about our services, contact a friendly Care Manager at (214) 363-3400 today.