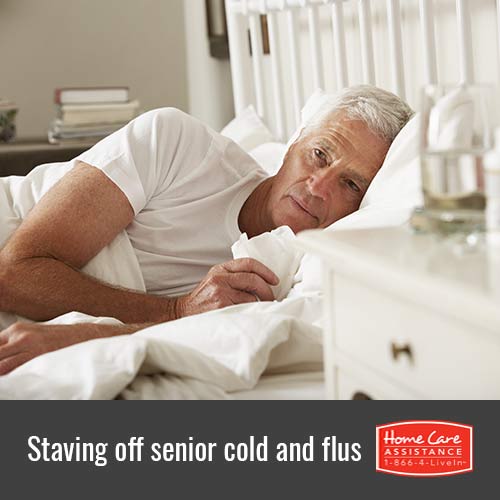 With this year's cold and flu season upon us, it's important for Dallas caregivers for senior loved ones to learn how to protect the elderly from getting sick this winter. Seniors are more prone to developing a serious illness that may start out as a mere cold, so precautions are important.
Get Vaccinated
Many seniors never receive a flu vaccine, either because they put it off or because they consider vaccines to be inconvenient. However, seniors no longer have to make a doctor's appointment to get a vaccine since many local health departments and even pharmacies are now offering flu shots. Another important vaccine to receive is a pneumonia vaccine, which can play a big part in warding off colds and protects against different types of bacteria from the flu shot. These shots are a great way to prevent a number of strains of influenza, pneumonia and colds from ever taking hold inside your senior loved one's body. The shots offer a lot of protection with little hassle for an entire season.
Wash Hands
Now is a good time to nag your senior loved one about washing his or her hands frequently. Few of us actually wash our hands as many times as we should as health guidelines suggest that hands should be washed any time a person has been touching things others have touched. While this constant hand washing may seem like overkill, it's the best way to keep germs from getting into your senior loved one's body. Colds routinely begin by germs that are transferred to the nose or mouth from unwashed hands, which is why regular washing reduces the risk. Encourage your loved one to use hand lotion after washing to avoid chapping from the winter weather.
Rest Often
The body is most prone to coming down with a cold or flu when we are tired because lack of proper sleep inhibits the immune system from focusing on fighting off illnesses before they take hold. Encourage your senior loved one to get sufficient sleep each night and take naps in the afternoon if necessary. It's important for seniors to have no less than seven or eight hours of sleep each night and to keep a regular sleep and wake schedule. Predictability is the body's friend when it comes to warding off illness.
Use Probiotics
The good bacteria our bodies naturally produce can make a significant difference when it comes to preventing different illnesses, including colds. Encourage your loved one to eat foods with these good bacteria to give your senior loved one's body an extra boost to fight off bad bacteria. One of the best sources of probiotics is yogurt. Look for a low-fat or Greek variant that has active cultures for the most beneficial source of probiotics. Your senior loved one will surely enjoy the chance to have a sweet treat in the name of health.
It can be challenging maintaining senior health and wellness this time of year, but the above tips can help caregivers like you protect your loved one from cold and flu. For more information on maintaining senior health and wellness, reach out to the experts at Home Care Assistance. Our highly trained caregivers help local seniors with personal care, housekeeping, and nutritious meal preparation on an as-needed basis. To learn more about live-in and hourly home care Dallas families can trust, call a friendly Care Manager today at (214) 363-3400 and schedule a free consultation over the phone.