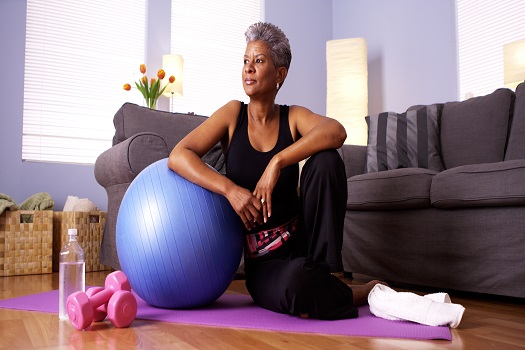 A sedentary lifestyle is linked to a variety of health conditions that range from obesity to heart disease. Fortunately, it doesn't take major changes to see a huge difference in health since increasing activity levels is as easy as adding some exercise into the day. Seniors who haven't been physically active in a while should visit the doctor to get approval and start a workout routine. Then, they can try out these fun and enjoyable forms of exercise that are perfect for sedentary seniors.
1. Go for a Swim
Everyone loves the feeling of gliding through the cool water of a pool. Swimming is suitable for sedentary seniors because the buoyancy of the water reduces strain on the joints and muscles, which is especially important if your loved one is currently overweight and complains about pain during other forms of exercise. Your loved one can also choose from a variety of different swimming exercises, such as water aerobics or strength training that involves using special weights designed for the pool.
Some older adults need assistance with regular exercise. If your aging loved one needs help managing everyday tasks or encouragement to adopt healthier lifestyle choices, turn to Home Care Assistance, a leading provider of senior home care. Dallas Home Care Assistance provides professional in-home caregivers around the clock to help seniors live longer, happier, and healthier lives.
2. Take Up Yoga
Yoga has benefits for the mind and body, which may motivate your loved one to increase his or her activity levels. Yoga has also come a long way in recent years, with many different forms being developed so everyone can practice the poses. For instance, chair yoga is a form seniors can try if they have balance issues or rely on a wheelchair to get around. Keep in mind seniors who have been sedentary shouldn't try complicated poses in the beginning. Instead, they should work with a caregiver who can provide them with gentle support in beginner level poses.
3. Try Pilates
Pilates is focused on strengthening the core muscles used to maintain balance, such as the ones in the back and abdomen. Pilates workouts can range from extremely challenging to beginner level classes that use modified exercises. If your loved one wants to try Pilates, have him or her start out slow with simple exercises designed for seniors.
Consider hiring a professional caregiver to help your loved one stay active and healthy at home. Dallas elder care experts are available to provide high-quality care to seniors on an as-needed basis. From assistance with mobility and exercise to providing transportation to the doctor's office and social events, there are a variety of ways professional caregivers can help your aging loved one continue to live independently.
4. Perform Bodyweight Exercises
Seniors who want to start strength training but have been inactive for a long period must be mindful of using techniques to avoid injuries. Traditional weights are more likely to cause injury, since it takes careful planning to use the correct size. Bodyweight exercises, such as leg lifts and arm raises, are much less likely to cause an injury because the muscles are already used to lifting that amount of weight. With this form of exercise, repetition is the method used to build muscles. Your loved one can also adapt the exercises to fit his or her abilities, such as doing leg lifts from a seated position until he or she can maintain balance.
5. Ride a Stationary Bicycle
Bicycling is a fun activity your loved one may have given up out of a fear of falling on the trail. You can bring your loved one's favorite activity back by setting him or her up on a stationary bicycle. An at-home bicycle can be set up in front of the television so your loved one can enjoy a movie while riding, or he or she can take a class with other seniors to make exercising a social event.
Staying active in the senior years boosts physical health and wellbeing. However, some seniors require help with daily exercise to ensure safety. Whether your elderly loved one needs part-time assistance with basic household chores or you need a break from your caregiving duties, the Dallas respite care experts at Home Care Assistance are here to help. All of our respite care services are backed with a 100% satisfaction guarantee, there are no hidden fees in our contracts, and we never ask our clients to sign long-term contracts. Call us at (214) 363-3400 to talk to one of our Care Managers today.