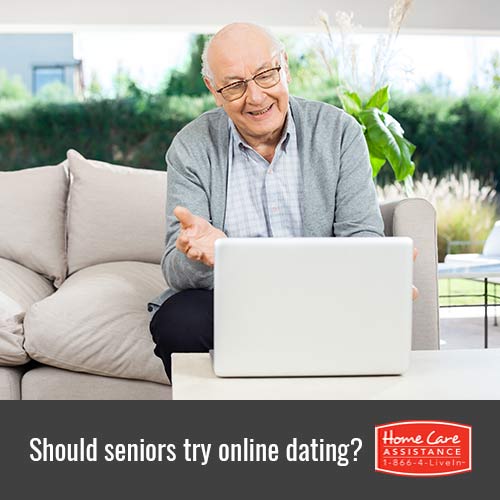 Online dating is extremely popular among seniors, but it comes with some pros and cons. Before encouraging your senior loved one to set up a profile, Dallas caregivers recommend you examine the following information to determine whether or not online dating is right for your elderly family member. 
There's a Wide Selection of Prospective Suitors
There is no shortage of online dating sites, even for seniors. There is a vast selection of seniors that your elderly loved one can interact with when he or she signs up. Some members on the dating site are local while others are scattered around the world, which gives your loved one a better selection to choose from.
Dating Sites Are Usually Inexpensive
Many seniors live on a limited income, which is why online dating is beneficial to them. Some sites charge a small fee while others are absolutely free. This will help your senior loved one avoid spending too much money in the pursuit of companionship. Just make sure your loved one does his or her research and verifies that the site isn't just a free trial or has hidden fees.
It's a Fun Way to Meet Others
Your senior loved one can eliminate the first date jitters thanks to online dating. This is an exciting way for him or her to meet new people and get to know people through chats and video messenger. Once your loved one knows a person well enough, he or she can arrange to meet in person. Encourage your senior loved one to meet her dates in a public place, and be sure to go along to ensure her safety. If you aren't available to escort your senior loved one, enlist the help of a trusted provider of in-home care in Dallas.
Not Everyone Is Honest Online
While there are many benefits of online dating, there are some drawbacks to remember. Some individuals will sign up for online dating using fictitious information or a fake photo. You will need to explain to your loved one that some people may not be honest about their intentions, but do not get discouraged if this happens. Remind your loved one to never give his or her personal information to anyone online, such as his address or financial account numbers.
Online dating offers new opportunities to seniors, but it's important for them to err on the side of caution. When you aren't readily available to assist your loved one with things like websites, technology, or even household chores, reach out to Home Care Assistance. We provide flexible live-in and part-time care Dallas seniors can rely on to help them age in place. In addition to helping seniors around the house, our highly trained caregivers offer emotional support and companionship to promote overall wellbeing. Give your loved one the care they deserve and call (214) 363-3400 today to schedule a no-obligation consultation.