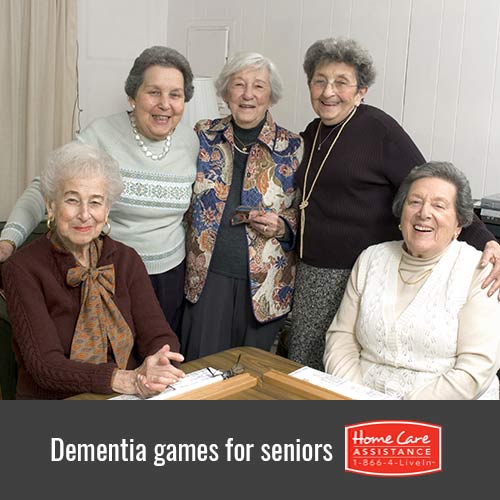 Keeping the mind active is one of the best ways to slow the progression of cognitive decline among seniors, especially those who require dementia care in Dallas, TX. Since cognitive decline affects the brain by interfering with its ability communicate with other parts of the mind and body, different forms of cognitive stimulation are essential for mental health. One particularly innovative way to help your senior loved one maintain brain activity is to encourage him or her to play games like the ones recommended in this article. 
Bingo
This game can be tailored to work for individuals in different stages of cognitive decline by using pictures of familiar people, animals, colors, or even the standard B-16 variety. Bingo prompts players to think about the number or object named by the caller and to check his or her sheet to see if a match is there. This type of matching skill helps the brain remember how to make certain connections and associations out of context of the game. 
Word Searches
Word searches are an easy one for seniors to do on their own or with a Dallas Alzheimer's home care provider. As with most word searches, seniors are given a list of words and must find them in a random pattern of letters. Word searches help seniors practice sorting out the important information out of a cluster of unimportant letters. This is useful for those with dementia because the amount of information processed by the brain can become overwhelming, but the skills acquired with word searches help seniors organize and process any jumbled data in their minds. 
Uno
This color and number game is fun for people of all ages and mental capabilities to enjoy. Seniors with dementia will additionally benefit from social stimulation if they can play this game with loved ones. The game helps seniors remember simple numbers and colors, making it easy to explain and understand. Likewise, the surprises thrown in by skips, reverses, and other special cards can help the brain practice thinking on its feet in unexpected situations. 
Jigsaw Puzzles
While some many not consider jigsaw puzzles a game in the traditional sense, they are a great game option for seniors with dementia to play alone. Puzzles are especially useful for because they come in all types for seniors in various stages of dementia, whether you're looking for puzzles with large pieces or 2,000-piece challenge puzzles. Puzzles help the brain focus on being able to remember patterns, shapes, and how colors match together. Likewise, the sense of accomplishment or satisfaction a senior will get from completing a puzzle will provide a boost in confidence and self-esteem.
Dementia is a life-changing disorder that seniors often need help adapting to. With help from Home Care Assistance, your loved one will get the help he or she needs to adapt to the challenges of dementia. From personal care assistance and companionship to safety monitoring and cognitive stimulation, our expertly trained caregivers help seniors with dementia will numerous aspects of daily life. To give your loved one the elderly home care Dallas seniors deserve, contact us today at (214) 363-3400 and schedule a no-obligation consultation.