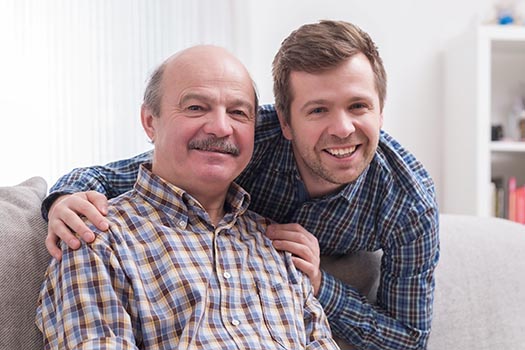 You don't need professional training to provide at-home care for a loved one living with dementia. Instead, you need to remain committed and develop a suitable care plan. Below are some ways to provide high-quality at-home care for a senior parent with dementia.
1. Get Help
Dementia is a progressive condition, and over time, the needs of seniors with dementia increase. Ask others to help out, or consider using professional home care services. It's important for your wellbeing to get time off to handle your self-care needs and enjoy activities you love instead of withdrawing from social activities and focusing solely on your parent.
Having a professional caregiver nearby can give you peace of mind about your loved one's safety and comfort. Not every senior has the same care needs, which means they don't all need the same senior home care. Families can rely on Home Care Assistance to provide individualized care plans to meet your elderly loved one's unique care needs. Our holistic Balanced Care Method was designed to help seniors focus on healthy lifestyle habits such as eating nutritious foods, exercising regularly, and maintaining strong social ties, and our Cognitive Therapeutics Method offers mentally stimulating activities that can stave off cognitive decline and delay the onset of dementia.
2. Be Realistic
Although the progression of dementia can be slowed down with healthy lifestyle choices and a proper care plan, the disorder is incurable. On some days, your loved one will get up and know where he or she is, but on other days, he or she may be unclear and need more careful supervision. Setting realistic goals can reduce caregiver-related stress and allow your family to manage better as dementia progresses.
3. Use Identification Accessories
Even with the best care, wandering is an issue for many seniors. In the event your loved one wanders off and forgets his or her address or the way home, make sure he or she has identification bracelets and accessories. If your parent is lost and unable to identify him or herself, the police or people in the area can use the accessories to identify your loved one, his or her health status, and your contact information.
Caring for a loved one with dementia is a challenging task for anyone. The responsibilities can sometimes feel overwhelming, but help is available. Seniors can face a variety of age-related challenges. Though some families choose to take on the caregiving duties, there may come a time when they need a trusted Dallas senior care provider. Families sometimes need respite from their duties so they can focus on their other responsibilities, and some seniors need around-the-clock assistance that their families are not able to provide.
4. Monitor Locks
The brain-changing effects of dementia make it challenging for seniors to think clearly, and they can put their physical and mental health in jeopardy with poorly made decisions. Therefore, you need to make sure all chemicals, medications, and dangerous items are securely stored and locked away. However, you should remove locks from bedroom and bathroom doors to prevent your parent from accidentally locking him or herself inside a room.
5. Stay Active
It's never too late for seniors to boost their brain health, even after being diagnosed with dementia. Encourage your loved one to exercise, take up hobbies, and do other stimulating activities that strengthen the mind. Staying active can boost cognitive health, enhance quality of life, and increase independence. 
6. Keep the Home Free of Clutter
 Seniors with dementia are at a higher risk of experiencing slips and falls because of gait changes, poor judgment, and memory impairment. Therefore, you need to remove clutter and keep the stairways, hallways, and doorways clear. Taking proactive approaches to fall prevention can enhance your loved one's wellbeing. 
7. Develop Distraction Techniques
Combative behavior is typical in older adults with dementia, and in some instances, they can become violent. Develop distraction techniques to calm stressful situations by diverting your loved one's attention. Getting your loved one to focus on something else can ease the tension and enhance his or her mood.
Dementia can be challenging for seniors to manage, but they can maintain a higher quality of life with the help of professional dementia care. Dallas seniors can benefit greatly from the Cognitive Therapeutics Method (CTM), an activities-based program designed to promote cognitive health and delay the onset of dementia. CTM is included at no additional charge with any of the in-home care plans provided by Home Care Assistance. To schedule a free in-home consultation, give us a call at (214) 363-3400 today.