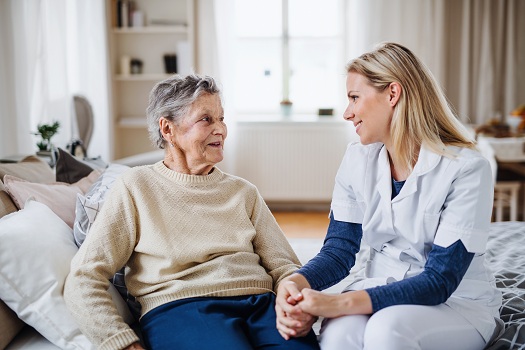 When an older loved one requires assistance due to illness or injury, many family caregivers are willing to provide the necessary care. However, distance or personal responsibilities may prevent family members from taking on the added task. In these instances, an in-home caregiver is a more convenient option. In-home care offers seniors and their families the following benefits.
1. Allows Seniors to Age in Place
Seniors are emotionally, mentally, and physically comfortable when allowed to spend their golden years at home. They're familiar with their surroundings and have all they need to live and thrive. In-home care allows for daily continuity, safety, and security without disrupting your loved one's life, and it also removes the guilt family members often feel when a senior enters a long-term care facility. 
Many older adults are choosing to age in place, and some need a helping hand to continue living at home safely and comfortably. Luckily, there is professional elderly care Dallas seniors can trust and rely on.
2. Preserves Dignity
Having daily care provided by caregivers in the privacy of home allows seniors to maintain their dignity. While at home, older adults aren't subject to receiving care from many different people or in the presence of others.
3. Promotes Independence
If they're cognitively able to make decisions, seniors are able to choose what type of assistance they need. Care is provided in accordance with the senior's schedule and preferences instead of having to follow the schedule of a long-term care facility. 
When considering senior care, Dallas, TX, families should make sure their senior loved ones have the resources they need to maintain their independence and remain healthy. Trusted in-home care professionals can assist seniors with daily tasks like cooking, bathing, and exercise, and they can also encourage them to focus on healthier lifestyle habits.
4. Provides High-Quality Care
Various agencies acquire licenses through the states and cities in which they operate. They also assign caregivers who have the training needed to possess certifications or licenses. As such, family members are assured their loved ones receive professional care from caregivers trained to provide the level of assistance required.
5. Offers Customized Assistance
Agencies employ individuals who have various levels of training and qualifications. This way, they can assign caregivers based on each senior's specific needs. Some seniors only require assistance with light housekeeping duties or meal preparation, while others might need help with daily personal care or medication reminders. Initial interviews and assessments determine the type and level of care needed. Periodic reassessments determine if changes are needed to ensure seniors receive the appropriate level of care. 
6. Boosts Social Interaction
As seniors develop relationships with in-home caregivers, their social networks also expand. They benefit by having people in their lives they can communicate with on a daily basis. 
7. Brings Peace of Mind to Family Members
When an older adult is living in a long-term care facility, his or her family members must conform to the visiting hours of the institution. However, when the senior lives at home, the family can visit at any time of the day or night. 
Living independently is important for seniors who want to maintain a high quality of life. For some, this simply means receiving help with tasks that have become more challenging to manage over time. Even when families have the best intentions, they may not have the time to provide the care their elderly loved ones need and deserve. If your loved one needs help for a few hours a day or a few days a week, reach out to Home Care Assistance, a trusted provider of respite care Dallas seniors can depend on. To create a customized care plan for your loved one, call us at (214) 363-3400 today.