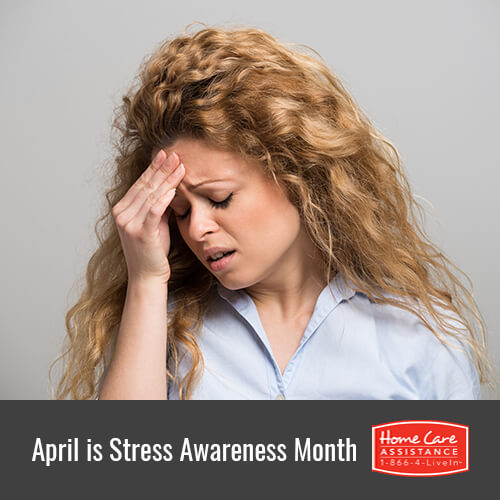 In honor of Stress Awareness Month in April, Dallas senior care providers want family caregivers to be more familiar with signs of stress and how to manage it. This annual holiday has been dedicated to spreading the message about the dangers of stress and providing coping strategies since 1992. Stress Awareness Month is important because the information that is shared can help millions of Americans who may be exposed to stress, particularly those caring for senior family members. Additionally, since this holiday has a yearly focus, health care professionals can get the word out about research findings regarding modern sources of stress how to effectively manage them.
What Is Stress?
The National Institute of Mental Health defines stress as the brain's response to any demand. These demands, and their responses, can be mild, major, or even extreme. Stress, particularly chronic stress, can manifest itself in physical symptoms and result in more serious health complications. For family caregivers, this stress could lead to anxiety, depression, and even burnout.
What Is Stress Awareness Month?
National Stress Awareness Month is an opportunity for family caregivers and others who experience stress to learn more about this condition and how to manage it. This knowledge is also beneficial for those receiving care, as illness is often a source of stress. Just as important, however, are the benefits for caregivers, as this job is both physically and emotionally demanding.
What Are Some Signs of Stress?
Low energy

Disrupted sleep patterns

Constant worrying

Headaches

Upset stomach or nausea 

Becoming easily agitated or frustrated
What Are Some Ways to Reduce Stress?
Exercise regularly

Seek emotional support from a trusted friend or advisor

Create a list of priorities and learn to say "no" when the list becomes too demanding

Schedule time for self care doing relaxing activities

Seek help from a health care professional, family member, or respite care provider
What Resources Are Available?
Primary care physician

National Institute of Mental Health website

National Stress Awareness Month website

The Mayo Clinic website for caregivers
Premier home care starts with healthy caregivers. In order for family caregivers to remain healthy, sometimes they need some time for themselves. Give yourself the time you need to regroup by turning to Home Care Assistance of Dallas. We provide respite Alzheimer's, dementia, and stroke care Dallas family caregivers can trust to take care of their loved one's individual needs in the comfort of home. This gives you the opportunity to unwind and recharge before returning to help your loved one manage illness and recover from injury. Call us today at (214) 363-3400 to learn more and schedule a free consultation.