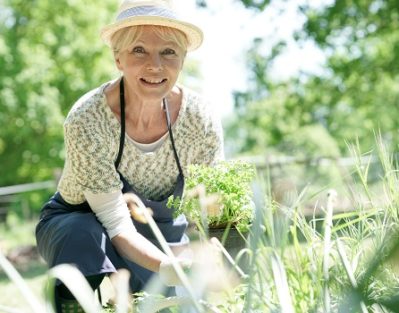 Recovery after a stroke can take months or even years. It's a slow process that often involves dedication to physical, occupational, and, sometimes, speech therapy. Caregivers can also work with stroke survivors at home to increase mobility and range of motion, enhance neurological function, and prevent depression. Here are some good activities your senior loved one can do at home after a stroke.
Gardening
Gardening allows stroke survivors to enjoy nature, and it provides both physical and psychological benefits. Handling soil and using gardening tools promotes circulation and flexibility in the hands, and planting and sowing enhances hand-eye coordination. Your loved one may also get satisfaction by admiring the flowers or vegetables he or she has planted.
Certain age-related conditions can make it more challenging for seniors to age in place safely and comfortably, but Dallas live-in care experts are available around the clock to help seniors manage their health. Whether your loved one is living with dementia or is recovering from a stroke, you can trust the professional live-in caregivers from Home Care Assistance to enhance his or her quality of life.
Riding a Stationary Bike
Whether using an upright stationary bicycle or a pedal exerciser that allows them to sit in a chair or on the couch while exercising, seniors can reap plenty of health benefits from stationary cycling or pedaling. Stationary bicycles and pedal exercisers are commonly found in physical therapy rooms in hospitals because they enhance circulation and build muscle strength. Cycling and pedaling can also prevent the muscle wasting often seen in stroke survivors. 
A professional caregiver can help your loved one exercise safely. Seniors can face a variety of challenges as they age, many of which can be mitigated with the help of professional in-home caregivers who provide high-quality senior care. Trust Home Care Assistance to help your elderly loved one age in place safely and comfortably.
Baking
Baking can be an independent activity or shared with a family member. If your loved one is making cookies, kneading the dough can be therapeutic and calming. Flattening out the dough with a rolling pin also stimulates circulation and enhances neurological function that may have been affected by the stroke. Pouring the dry ingredients, such as flour and sugar, into the bowl promotes spatial reasoning and hand-eye coordination. Since a stroke survivor may be unable to safely grasp a knife, baking can be safer than other types of cooking because there's less chopping and cutting involved. Your loved one can also enjoy the delicious outcome of the baking experience.
Listening to Music
Listening to music is relaxing and promotes a positive mood. Dancing or exercising to the music boosts cardiovascular health, lowers blood pressure, and increases flexibility and circulation. Music also evokes positive memories and staves off depression and anxiety, which are common in stroke survivors. If your loved one played the piano or another instrument prior to the stroke but doesn't remember how to play after the stroke, consider getting a music teacher who will work with your parent on proper technique, scales, and finger flexibility exercises.
If your elderly loved one is living with a serious medical condition and needs help managing the tasks of daily living, reach out to Home Care Assistance, a Dallas senior care agency you can trust. Our caregivers are available 24/7, there are no hidden fees in our contracts, and we offer a 100% satisfaction guarantee on all of our in-home care services. If you need professional stroke care for your loved one, reach out to one of our Care Managers today at (214) 363-3400.