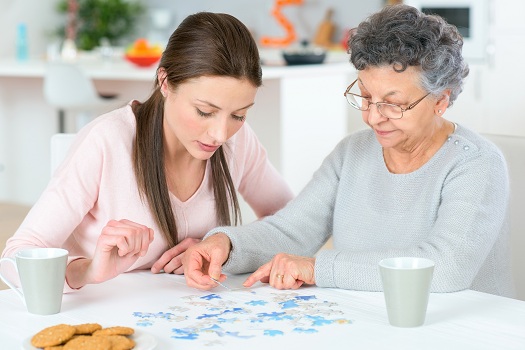 After having strokes, many people experience the loss of physical and cognitive function. Although these losses are mostly caused by the neurological effects from the strokes, issues such as extreme fatigue and a deconditioned state may also contribute to loss of function. Here are five at-home activities that may restore function for stroke survivors.
 1. Range of Motion Exercises
Depending on the extent of neurological damage your senior loved one has experienced, he or she may benefit from doing range of motion exercises. Range of motion activities can be performed either passively or actively. Passive range of motion is best for stroke survivors who have hemiplegia, or one-sided paralysis. During passive range of motion exercises, you can move your loved one's joints through a complete range of motion cycle to enhance circulation while preventing stiffness. These exercises are typically done with the shoulders, elbows, knees, ankles, wrists, and fingers. If your loved one is able to with no assistance, he or she can perform active range of motion exercises independently.
Certain age-related conditions can make it more challenging for seniors to age in place safely and comfortably, but Dallas live-in care experts are available around the clock to help seniors manage their health. Whether your loved one is living with dementia or recovering from a stroke, you can trust the professional live-in caregivers from Home Care Assistance to enhance his or her quality of life. 
2. Stationary Cycling
Weakness or paralysis can impair the ability to walk after a stroke, which can lead to muscle wasting, loss of muscle strength in the legs, decreased coordination, and deconditioning. Riding a stationary bicycle can increase ambulation ability, enhance cardiovascular health, and boost muscle tone and strength. Instead of an upright stationary bicycle, provide your loved one with a mini pedal exerciser, which he or she can use while sitting in a chair.
3. Jigsaw Puzzles
When stroke survivors work on jigsaw puzzles, they have to concentrate on the task at hand, which may put them in a peaceful trancelike state, providing some of the same benefits as mindful meditation. This mindfulness promotes a sense of calm and wellbeing, which can lower blood pressure and enhance cardiovascular function. Visual-spatial benefits are also obtained from doing jigsaw puzzles when stroke survivors look at the puzzle pieces and try to fit them into the appropriate spaces.
Seniors can face a variety of challenges as they age, many of which can be mitigated with the help of professional in-home caregivers who provide high-quality elderly care. Dallas families trust Home Care Assistance to help their elderly loved ones age in place safely and comfortably.
4. Baking Cookies
In addition to eating and sharing the cookies, your loved one can also be involved in measuring the dry and wet ingredients for the dough. Measuring and pouring the ingredients into measuring spoons and cups and cracking the eggs can enhance visual-spatial abilities. Also, hand mixing the dough increases finger strength, while kneading the dough and rolling it with a rolling pin increases blood flow to the arms and hands.
5. Charades
Charades is a physical game in which the participants act out words or phrases. Stroke survivors who play charades need to think about how they're going to act out or pantomime the clues. They'll also need to move their bodies by gesturing, frequently nodding their heads to mime the word "yes," and shaking their heads from side to side to signify the word "no." Charades is a fun pastime that makes stroke survivors use their critical thinking and memory skills while keeping them physically active.
A professional caregiver can be a wonderful source of information and support for a senior recovering from a stroke. If your elderly loved one needs help maintaining a high quality of life while aging in place, reach out to Home Care Assistance, a trusted provider of Dallas senior care. Our caregivers provide transportation to and from medical appointments and social events, nutritious meal preparation, assistance with daily exercise, and help with everyday tasks like bathing, grooming, and light housekeeping. To talk to one of our friendly Care Managers and create a customized senior care plan, call us at (214) 363-3400.