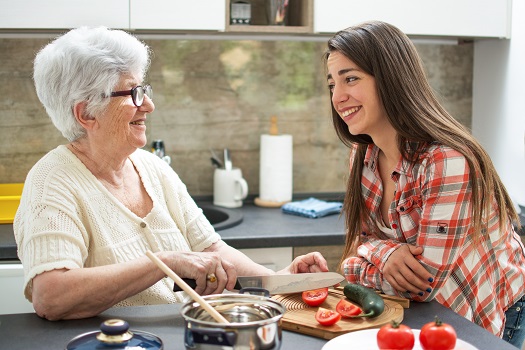 Grandparents can play an integral role in the lives of their grandchildren. Although teenagers are maturing and developing their own interests, grandparents can still find common ground for the two generations to spend time together. There are several ways seniors can bond with their teen grandchildren.
1. Enjoy a Movie
On a weekend night while the family visits, a senior can make it a movie night. Allow the teens to choose the movie. Considering the pop culture interests of today, the type of movie may not be something older adults generally watch. However, the choice enables a senior to get to know his or her teen grandchildren better. The film might also lead to a fascinating discussion comparing popular movies of yesteryear with what attracts audiences today.
Discussing movies is one of the many ways seniors can socialize and prevent isolation. For families living in Dallas, respite care can be a wonderful solution when their aging loved ones need companionship and socialization a few hours a week or just need minor assistance with daily household tasks. At Home Care Assistance, we thrive on helping seniors maintain their independence while living in the comfort of home.
2. Bake or Cook
Seniors can invite their grandchildren to help them prepare adventurous meals or fancy desserts for family get-togethers. They can bake batches of cookies, cakes, or pies using traditional family recipes and talk about how the recipes originated. Seniors and their grandkids can decide on recipes together, go shopping for the ingredients, and enjoy each other's company while preparing the dishes.
3. Look Over Photo Albums
Many older children enjoy learning about their younger days by looking through photo albums. They also often enjoy going through photos from their parents' or grandparents' youth. The activity may lead to a conversation about how seniors handled teenage problems back in their younger days.
4. Share Hobbies
Grandparents and grandchildren might share similar interests in outdoor recreation or arts and crafts. They can spend days on the lake fishing or go hiking and take photographs. Creative teens may appreciate learning more about drawing, painting, sculpting, woodworking, and other hobbies in which their grandparents have extensive experience.
5. Take a Trip
A great way for seniors and their grandkids to get to know each other is to spend time together on vacations. Whether they want to embark on weekend camping trips or go on cruises, they should choose locations together and begin planning their adventures. It doesn't matter if they spend their time in RVs or on luxury cruise liners. The time spent getting to know each other and making special memories is worth far more than the cost of the trips.
Some seniors prefer to stay at home rather than taking trips, and they can benefit from receiving professional in-home care. Living alone at home in the golden years can present a few unique challenges. Trust Dallas elderly home care professionals to help your senior loved one maintain a higher quality of life while he or she manages an illness and performs the daily tasks of living. 
6. Volunteer
Once children reach the age of 15, their top priority often involves getting their driver's licenses. Patient grandparents might have what it takes to be driving instructors. Accompanying and supervising teens while they're applying the rules of the road and managing vehicles is a wonderful way to pass on knowledge and experience. Seniors can also volunteer their time teaching grandchildren and their friends some useful skills. 
Aging adults may need assistance with daily tasks. Not every senior has the same care needs, which means they don't all need the same type of senior care. Dallas families can rely on Home Care Assistance to provide individualized care plans to meet their elderly loved ones' unique care needs. Our holistic Balanced Care Method was designed to help seniors focus on healthy lifestyle habits such as eating nutritious foods, exercising regularly, and maintaining strong social ties, and our Cognitive Therapeutics Method offers mentally stimulating activities that can boost cognitive health and delay the onset of dementia. To create a comprehensive in-home care plan for your parent, give us a call at (214) 363-3400 today.