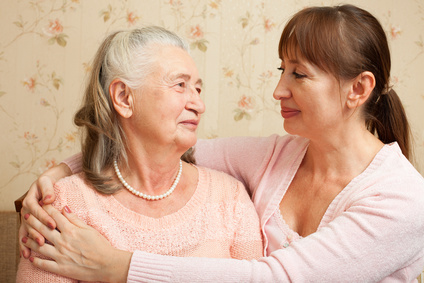 Caring for people with dementia can be a challenging job, especially if you are doing it for the first time. If you are taking care of someone with dementia, the first thing you need to understand is that whatever people with Dementia do is not in their control. They may not be able to speak fluently, read, write or comprehend your expressions or emotions well. As a caregiver, you not only need to understand their condition but also know how to communicate with them, conclusively. To help, we give you five practical tips to communicate with someone with Dementia.
1. Have Positive Interactions
The way you interact with someone with dementia has a long-lasting impact on their mental well being. Try to avoid having any negative conversations with them, instead focus on highlighting their positives. Set a positive and light mood through respectful and pleasant conversations. Use physical touch, subtle tone, and facial expressions to convey your message affectionately.
2. Avoid Distractions
The best way to communicate with someone with Dementia is to interact with them when there are fewer distractions in the surroundings. This tip serves to help them focus on your conversation and understand it in a better way. Too many things going on in the background can confuse your loved ones and may even lead to more frustration and anxiety in them.
3. Speak Clearly
When having a conversation with someone with Dementia, it is advisable to use as simple words and sentences as possible. Speak slowly, clearly, and in a reassuring tone. Avoid speaking in harsh and louder voice. If the person doesn't understand your message the first time, you should repeat the same message in the same words. Also, avoid using pronouns or abbreviations while conversing, instead directly use the names of people and places.
4. Talk About One Thing at a Time
Someone with Dementia may not be able to keep track of too many subjects used in the conversation. So it's advisable to keep the conversation simple while conveying only one message at a time.
5. Respond with Reassurance
People with dementia face a hard time dealing with emotions such as confusion and anxiety and are usually unsure about themselves. As a caretaker instead of pointing out their wrongs, empathize with them and respond in a comforting, supporting, and reassuring way. Sometimes even holding their hands is enough to make them confident and feel comfortable in your company.
Wrap Up
If you are taking care of someone with Dementia, you must understand the dos and don'ts when conversing with them. Hope the discussed tips help you take care of your loved one in an effective manner. If you are looking for a Dementia elderly care, look no further than Dallas Home Care Assistance. Our team of compassionate and experienced caregivers ensures 24-hour in-home senior care. To learn more about our home care services, fill out our contact form or simply call 214 253 8784.